It doesn't matter if you are new to the field of user experience design or have several years of experience under your belt – every UX designer needs a portfolio that includes a strong narrative about who they are as designers.
Your UX portfolio is an excellent way to tell your story. The key word here is story. It should not consist of only a series of high resolution images. Rather, use your portfolio as a vehicle to illustrate your process as a designer through the use of images and text.
In my opinion, having a portfolio isn't optional. Hiring managers want to see a link to your portfolio on your application and if you get an interview they will expect you to walk them through it.
As a mentor for aspiring UX designers at Springboard, a San Francisco based online education company, I found that one of the most challenging and equally fulfilling projects for students is the creation of their capstone online portfolios. The most successful portfolios I have seen are the ones where students take the time to think about how to best share their career journeys and their work in a way that is easy to read and allows readers to "get them know them" as people, designers and problem solvers. We'll discuss this more in depth later in this post.
As UX designers, we want to learn more about our users to help create products that are intuitive and delightful and help users achieve their goals. Wouldn't it make sense to think about the creation of our UX portfolios with the same process in mind?
Know Your Audience
Take time to understand who the audience of your portfolio is. You'll need to define:
Who are the users of your portfolio?

What are they hoping to find out when they get to your portfolio site?

How do they want to navigate through your portfolio?

What are their motivations, goals and frustrations?

What problems are they trying to solve by hiring a UX designer?

Are they wanting someone who brings strong research skills to the table?
Do they want someone who has great communication skills to help business stakeholders understand the benefits of

design thinking

?
Or, are they looking for a designer that enjoys mentoring?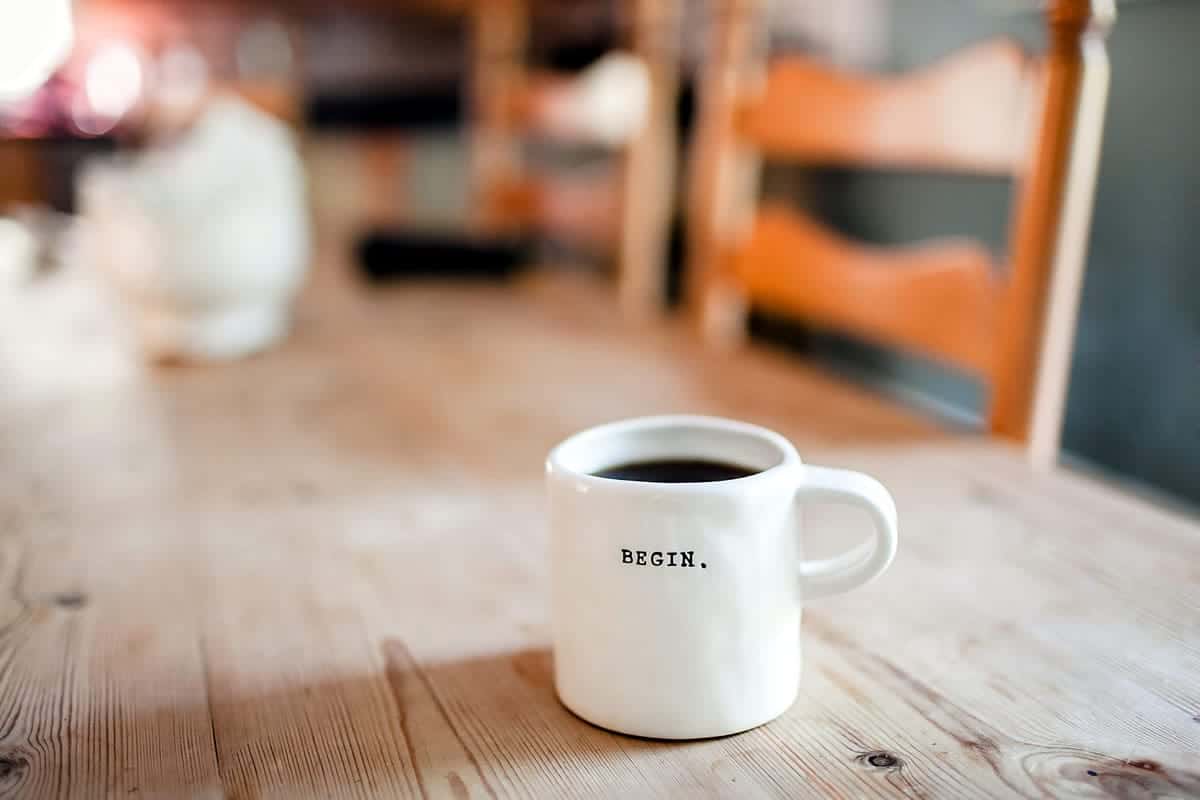 How can you help them solve their problems?

The answer to this question will help define the content you want to highlight in your UX portfolio. If they want someone who can bring together a diverse set of stakeholders, make sure you point out areas in your job history where you engaged successfully with stakeholders or moderated a workshop with developers, clients, product owners and designers.
What is your story as a designer?

Once you define your story you can start thinking about how you can share your process in a way that reveals your greatest strengths. These strengths are the parts of your design story that you want to make sure stand out.

Think about weaving your experience and knowledge from other parts of your work and life history that might not be design-specific into your story. Sometimes those details are what are most striking, memorable and appealing!
Gain Inspiration from Others
Storytelling is an art and every person has their own way of relaying their own story.  You have your own unique voice that you need to tap into. One of the best ways to get your creative juices flowing is to do a little research and see what other designers are putting out there.
For those of you who are new to the field, don't stress about the fact that you don't have a long list of projects to highlight. It's totally ok to focus on one project! The key is to make sure you talk about your process from start to finish in a way that is easy to navigate and gives the reader insight into who you are as a designer.
Remember it is not about having the prettiest portfolio, though the design of your UX portfolio is important. You could include all the best high resolution images of your checkout process or dashboard but these images won't give you the results you want. Include images of deliverables, like sitemaps and low-fidelity wireframes as well as some short summaries that explain the challenges you faced and how you overcame them, the tools and methodologies you used and why, and key learnings from user testing sessions.
How you think and solve problems is ultimately what clients and hiring managers want to know.
While you might be tempted to only share the final attractive designs, readers will enjoy seeing sketches on napkins of potential user flows or photos from a white-boarding session. Those are what helps them better understand your thought process and problem solving skills.
Get Inspired
Check out these UX portfolios to help inspire you.  
Right off the bat, I like Erik. His introductory statement is friendly and confident, which I believe would be really appealing to hiring managers. He seems like somebody people would enjoy working with.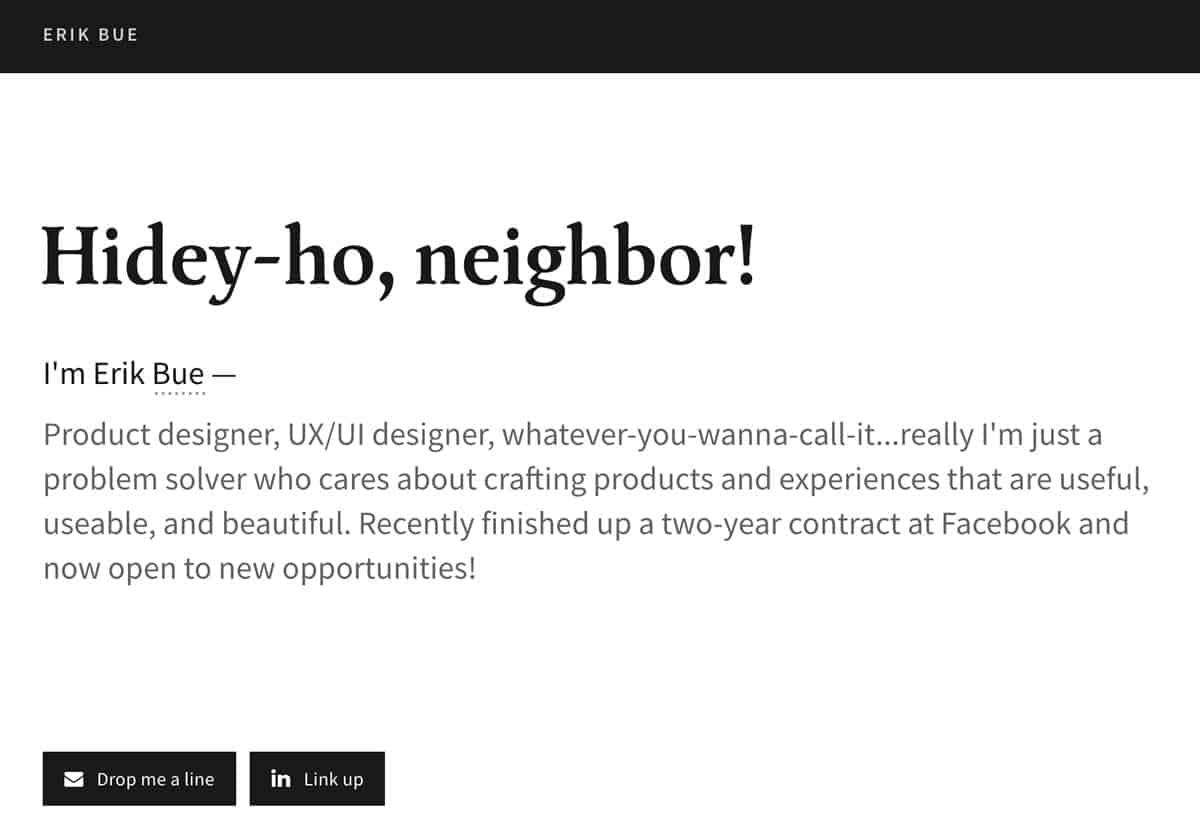 Source: erikbue.com
And, just like his introduction, his descriptions are friendly, smartly written and easy to understand.
As a UX researcher and writer at a healthcare company, it is always great to see how other researchers are presenting their portfolios. Research often involves a ton of methodologies and deliverables that are hard to represent in a concise and readable way on a portfolio.
Katie does a great job at doing just that. Take a look at her "Note Bloat" page. She talks about the challenges, her process and the outcomes. She even included some quotes from the users to give more insight into who the users were and what she learned from them.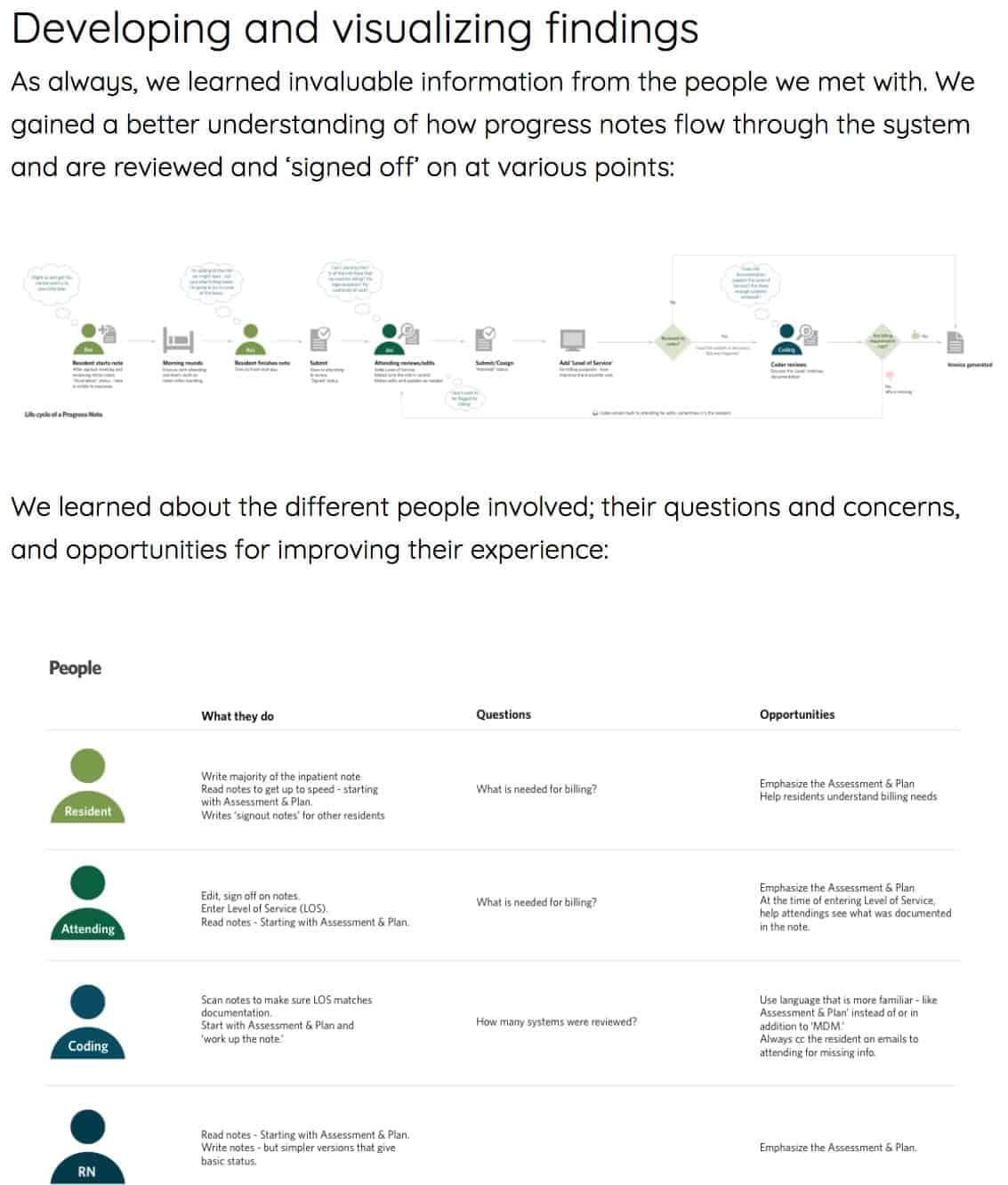 Source: katiemccurdy.com
Kristian's portfolio is a good one to gain inspiration from, particularly for those new to the field of user experience. He lays out the problems he is trying to solve and how he approached solving those problems, providing just enough context through concise descriptions coupled with images of his deliverables.
I also particularly love how he includes a video of a user testing session and what the key learnings were from that research.
For those of you interested in creating a PDF portfolio, I highly suggest taking a look at Anton's portfolio. It is an impressive 46-page PDF document that showcases his process as a designer through the use of visual aids, such as infographics and timelines before diving into his case studies.   
Write Your Story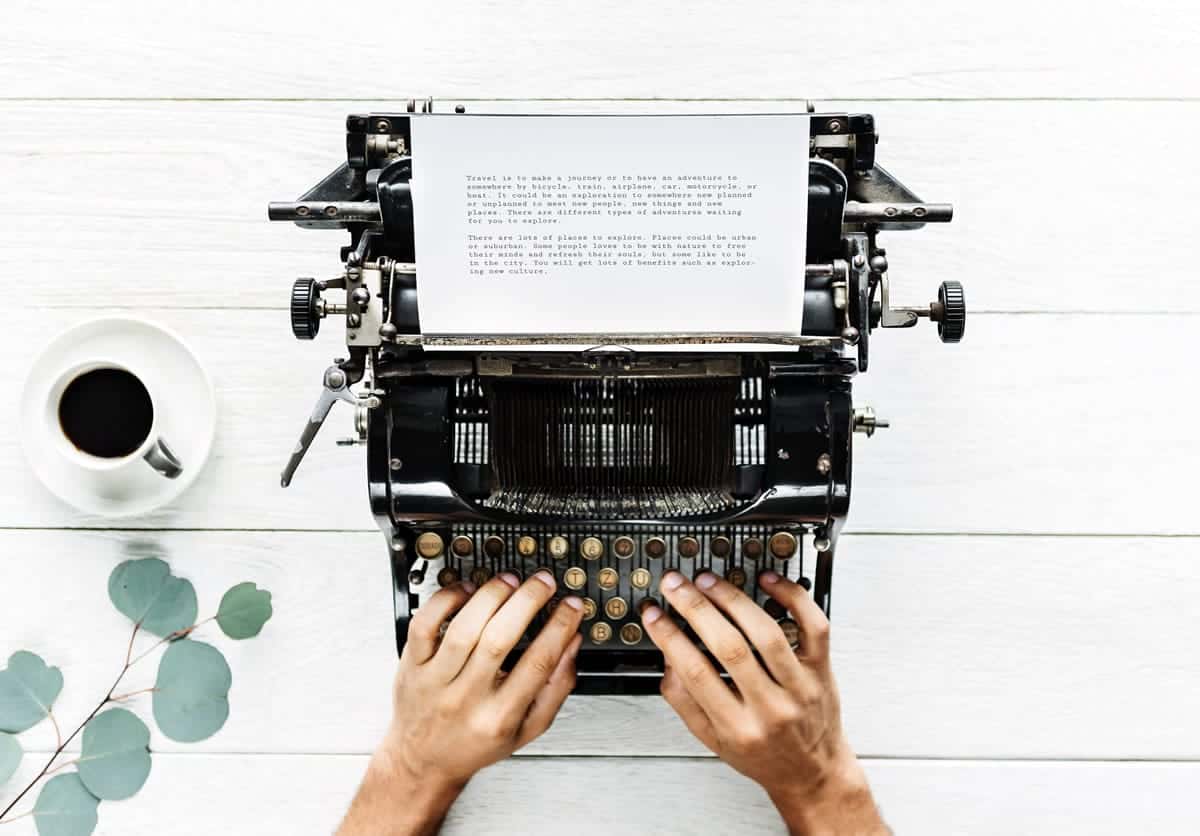 Hopefully the inspiration you gained from the UX portfolios listed here and that you found while conducting your own research give you a good sense of the direction you want to take with yours.
Now it's time to write your own story. One of my biggest tips is to try telling your story out loud. You can do this alone or perhaps to friends or family. Doing this a few times will definitely help refine it and define your voice.
After that, sketch out a short blueprint or skeleton of what your portfolio will contain and how users will navigate through it.
At this point, you should know the tone you want to convey through your storytelling and the flow you want your portfolio to take. Now all you need to do is fill it in with content!
We would love to see your portfolio once it's complete. Or if you have any additional tips please tweet us @Protoio!
Proto.io lets anyone build mobile app prototypes that feel real. No coding or design skills required. Bring your ideas to life quickly! Sign up for a free 15-day trial of Proto.io today and get started on your next mobile app design.