With Thanksgiving in the rear-view mirror, we're full speed ahead towards the new year. While the year seemed like it went by in a flash, it's important to slow down and take stock of the design trends that took the industry by storm. This month's round up of the best mobile app UI designs will blow you away. So take a seat and prepare yourself as we get started!
As a brand, checking in often with consumer sentiment will help you build better products that resonate with your target market. Dabbl aggregates this consumer attention and pays them via gift cards for watching ads and then answering related questions. Dabbl makes this consumer research into a fun game for Android users (an iOS version is coming soon) and clearly shows how users are progressing towards those gift cards. The gamification of the mobile app UI design is very effective, as users are inspired to keep going to get rewards for their attention. In addition, it uses high quality images to determine which brand imaging is most effective. Making consumer research into a game was an excellent call for Dabbl.
Get Dabbl on Android.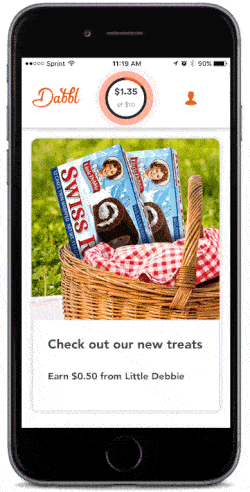 Source:  Dabbl
With the rise of smart home devices, it seems like you can control just about anything in your home with an app—even if you're miles away. WeMo is one of those devices that can give you peace of mind from afar. It has a hardware component that you put into outlets, and then plug your appliances, lights, and such into it. Then you can switch those items off or on with the help of the WeMo app. There are endless ways to use WeMo and as the days get chilly, the thought of switching on the space heater right before getting home is an appealing one. In terms of the app itself, it is a bright green (reminiscent of energy efficiency) that provides all the data you need on your energy use, as well as simple controls to turn things off and on.
There are a few solid money transfer apps out there, but Zelle is a bit different. I've noticed the "cash out" process on Venmo getting faster and the default next day payments from Square Cash are useful. But in the latter case, users have to pay a fee if they want the money to go into their account instantly. We've gotten used to waiting, but Zelle makes that a thing of the past. The company partners directly with banks that many Americans use so that when you want to pay back your brother for snacks on your next road trip, the money goes straight into his account without the waiting period. The mobile app UI is a deep purple throughout the main screens: choosing who and how much to pay. Then it transitions to a bright green when your payment is complete. This money transfer app is much simpler than the busy UI designs we're used to. After all, seeing a feed of what your contacts have paid others for isn't necessary or useful at all.
As someone who wears glasses, discovering Warby Parker was amazing. Great styles without the designer markup with at home try-ons included? Sign me up! Since the iPhone X was released, Warby Parker has taken at home try-ons to the next level, by making use of the face mapping TrueDepth technology built into the phone. Gone are the simple days of uploading a picture of yourself and "trying on" glasses that way. Now Warby Parker can gain an understanding of your face and make recommendations for glasses styles based on your facial architecture. If you're lucky enough to have an iPhone X, then you can give this a try; otherwise you, can still check out Warby's sleek eCommerce app. It perfectly blends minimalist design with crisp images of products, enviable icons, and product information, making it easier than ever to choose your next frames.     
Get Warby Parker on iOS.
If you've ever dabbled in photography (with a manual camera), you know that smartphone cameras leave a lot to be desired. The amount of customization is minimal and means that photos often come out a bit stale. Halide is a camera app that brings the tactile excitement of the manual camera to your smartphone. The user experience within this mobile app UI design is excellent because the creators understand that the user will often be using one hand as they try to quickly capture the moment. With that said, it is simple to use; with the tap or swipe of the finger, users can change the focus, exposure, or add in effects easily. The design aligns nicely with what iPhone users are already used to within the default camera app. It offers extensive options represented by easy to understand icons, and wraps up the entire experience nicely.
Get Halide on iOS.
6. SWNG by Swing Technologies Inc.
Staying within the photo app realm, SWNG is an app that is almost a cross between Instagram's Boomerang and gifs. On one hand, it is a platform for creating "live photos" and on the other, it is also a social network to share out these images and follow fellow users. The mobile app UI is beautifully simple, keeping buttons and features to a minimum. Scrolling through your feed is much more seamless than other photo sharing apps, as borders and text are hardly present. This allows you to become fully immersed in the photos themselves. The feature I appreciate the most is that when you swipe left and right, the images move backward and forward, giving the viewer control over the speed of the image, compared to a pre-set Boomerang speed.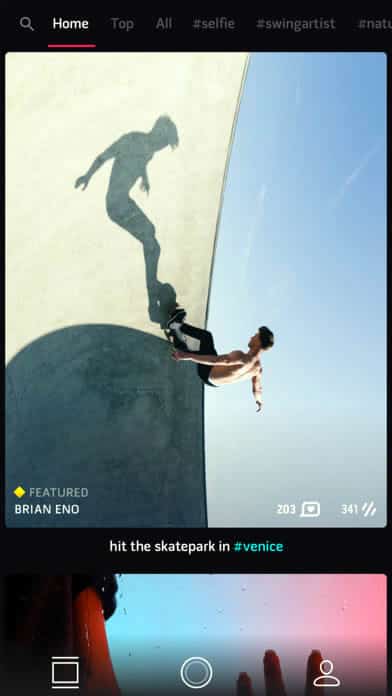 Since digital cameras and smartphones were developed, we've been taking an increasing number of photos. But that brought unforeseen issues, such as organizing and getting rid of the bad ones. After I go on vacation, I always devote a bit of time to going through my pictures so that only the good ones are left. But what if artificial intelligence could do that for us? That's exactly what Polarr Album+ tackles. The app groups your photos based on location, type, and people in the photo. It takes it further by deleting duplicates and allows you to save time by batch editing photos. For iPhone users, it fits in with the minimal Apple design that focuses on the images and avoids any cluttered text or buttons. Next time you sit down with your Mom to show her your most recent trip, you'll have curated albums to make the process simple and delightful.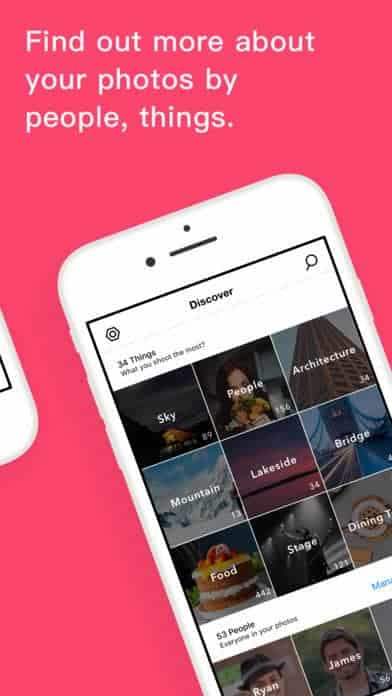 Facebook just launched a platform for video creators to give them more power to choose how their Facebook Live videos look and to create a community. Vloggers are a big part of the internet and helping them make more customized videos, get more granular looks into their analytics, and help them respond to subscribers easier are all ways to slowly lock in their loyalty over more popular platforms, like YouTube. With this app, Facebook takes a giant leap into the video creation game and shows that they came to compete. The app UI has the same crisp feel that we're used to with Facebook products, and it seamlessly builds in analytics so that they are always present and presented clearly. It will be interesting to see what impact this new app has on the vlogging industry and what features Facebook adds to it next.
Get Facebook Creator on iOS.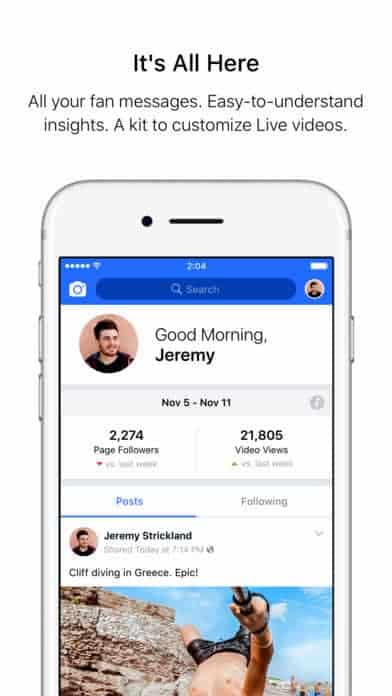 Facebook has been on fire lately and to add to Creators, they also recently revamped their Events app (which didn't see much success) and came out with Facebook Local. While Yelp shouldn't start shaking in their boots just yet, this competitor has some great features. You can find restaurants, bars, etc, around you with high ratings, just like Yelp. However, it also takes into account your Facebook friends' check-ins and also aggregates events nearby. When you're looking for a new place to eat or dance, knowing that it has your friends' stamp of approval can quickly narrow down the options. This app takes on a lot, from helping users plan Facebook events to finding out what's popular with friends this upcoming weekend, but they manage to pull it together in a colorful and (most importantly) useful way.
10. Ride Fair by Ride Fair
If you have a smartphone and live in an urban area, there's a good chance you make use of Lyft and Uber. Using both often leads to price comparisons. Looking out to see which one can pick you up faster, and also avoid surge pricing can take a few minutes, unless you have Ride Fair. This Lyft and Uber aggregator shows wait times and pricing for each app, continuously updating as these factors change. One tap takes you into your Lyft or Uber apps and allows you to request the car that you've decided is best. Since the point of this app is to save time and money, it has a clear and simple mobile app UI that provides the crucial information quickly without any frills.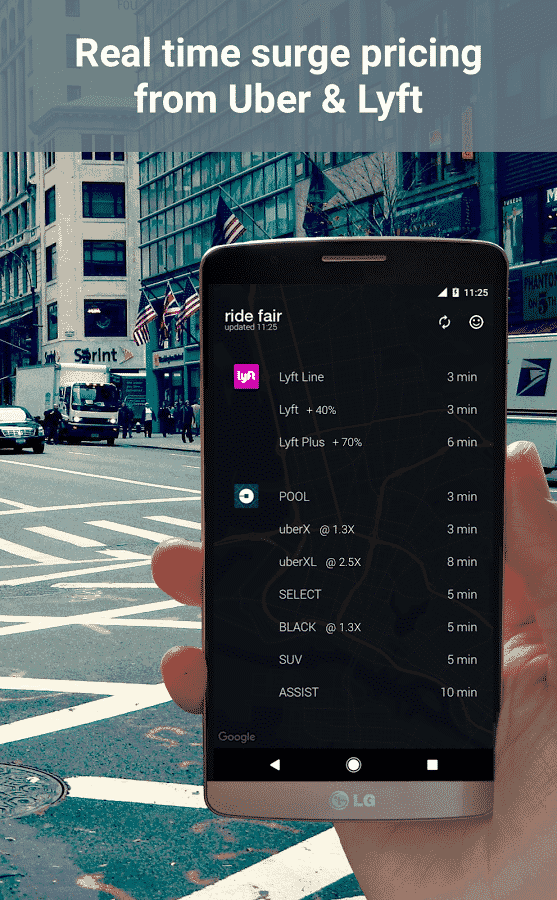 That wraps up the apps for November, but if you'd like to explore some of our other favorite mobile app UI designs, check out our October installment.
Feeling inspired? Sign up for free with Proto.io and prototype your own app in minutes.
If you enjoyed this curated list of great mobile app designs, share it with your social network! Do you have a suggestion for the next edition of our Top 10 Mobile App UI series? Reach out to us via Twitter @Protoio or on Facebook.