For this edition of the best mobile app designs, we explore some apps that are especially helpful for a summer uncharacteristically spent indoors. From yoga to collaboration to entertainment, these apps are great for passing the time and being more productive. Let's dive right in. 
1. Yoga Wake Up by Yoga Wake Up, Inc.
With coronavirus and social unrest sweeping through the world, getting a good night's sleep, and waking up feeling rested has been a bit difficult. Yoga Wake Up helps you wake up gently with customizable tones that lead to meditation or brief yoga flow. We love that the mobile app design matches the peaceful intentions of the app. A pastel gradient is present throughout the app, with yellows, pinks, blues, and purples that remind us of the changing sky as night turns to morning. The clean design leaves plenty of whitespace so that you can complete meditations, set your preferences, and consume content in a gentle way that puts wellness at the forefront.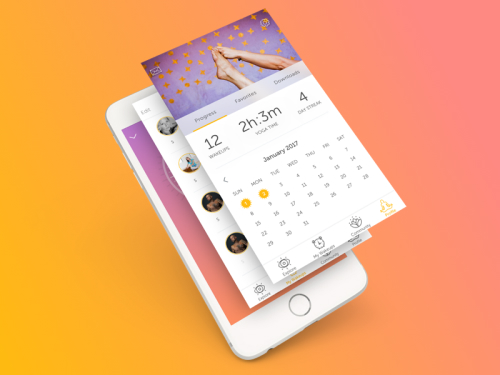 Source: Dribbble
Trash is an AI-powered video editing app. If you're a musician stuck at home and want to create music videos for the songs you've been creating, this one is for you. The mobile app design sticks out from other video editing apps first because of its layout. When starting the editing process, it has two option bars: one on the right side of the screen and the other along the bottom. Using the menu along the bottom, you'll tap on Apple-style icons to choose a challenge or recap style video, for example. Then along the right, you'll tap more basic icons to add music, pick speed, and more. In all, it's a fun way to edit videos faster than ever and stay in touch with friends.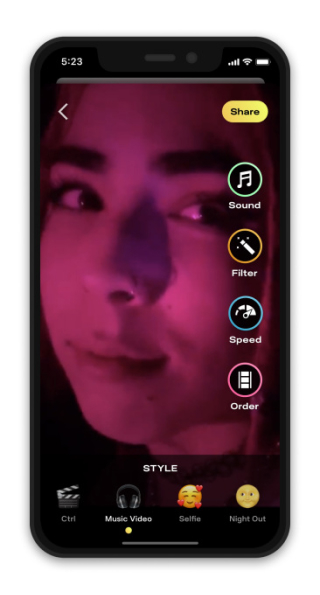 Okayceci for Trash
Let's face it: email is important, but the way it works currently is imperfect at best. Along came a new app called Hey to fix all that. It is a new email concept from Basecamp that helps you stay organized, highlight what you need to respond to, and filter out the rest. The idea is to cut down on the emails we receive with a thumbs up or down the first time a person or company emails you. This is a welcome change, in our opinion, because it's hard to be productive with a messy inbox. The mobile app design is a clean white, much like we're used to with Gmail, but it also adds pops of color to denote who is sending you an email and offer actions you might want to take. Hey just might be the email provider of the future, and it's great that it was designed with simple beauty in mind.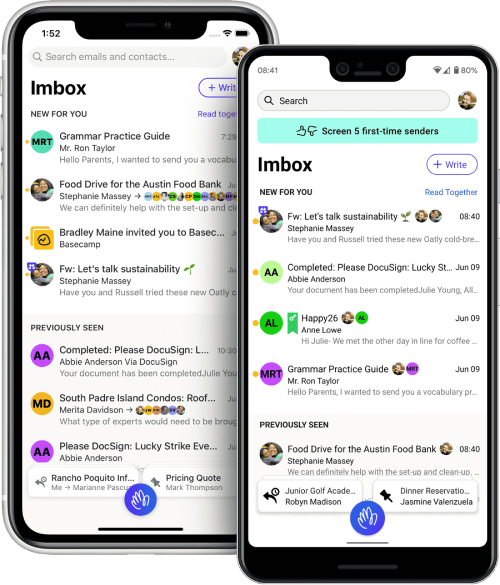 Source: Hey
4. Voodle: Short Video for Teams by Voodle, Inc. 
Don't you hate meetings that could have been an email? Voodle is trying to put an end to meetings that drag on by enabling colleagues to record 60-second video clip updates, complete with automated transcription. The mobile app design is fundamental, focusing on video updates and ample integrations. This enables team members to get and give updates very quickly, without zapping too much time out of your day like Zoom.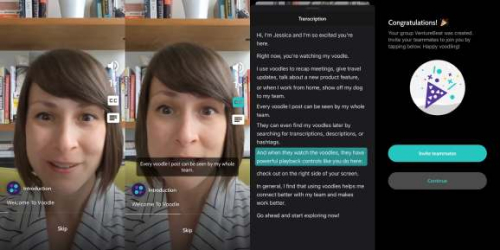 Source: VentureBeat
5. NYC Subway Sounds by NYC Subway Sounds
With the state of the world these past several months, we are all in need of some entertainment to get our mind off of this new reality. Evan Lewis, an iOS Engineer at Adobe, made a delightful app for everyone who is missing the New York subway. If you've ever lived in or around New York City, you know that the subway is the heart of the city, with lines crisscrossing across the boroughs. But once quarantine hit, there was no longer a need for most people to commute by train. So Lewis made an app that plays all the familiar sounds New Yorkers are so used to screeching breaks, the announcement of upcoming stops, and reminders to mind the gap. The app itself adopts the wonderful font of the subway and places these options on top of a background that looks quite like many of the tiled walls in subway stations. We all need a break from this reality to feel normal for a bit, and this app is an innovative way to do that.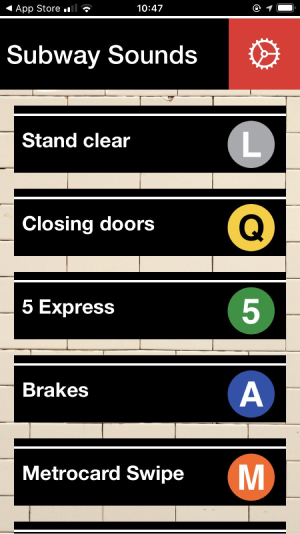 Source: App Store
That's all for summer but be sure to check out last season's edition, featuring the best mobile app designs of spring 2020. 
Feeling inspired? Sign up for free with Proto.io and prototype your own app in minutes.
If you enjoyed this curated list of great mobile app designs, share it with your social network! Do you have a suggestion for the next edition of our Top 5 Mobile App Designs series? Reach out to us via Twitter @Protoio or on Facebook.