After an eventful summer full of inspiring trips and sunshine, it's time to get back to work. Here at Proto.io, we're always on the lookout for the best mobile app designs and this month didn't disappoint. The apps we've rounded up for you in September have some of the brightest color palettes (so that we don't forget summer anytime soon) and have classic designs that do their concepts justice. Before we give too much away, let's get right into these apps.
Tech news is never hard to find, but knowing what really matters and what we can block out isn't. Product Hunt is revered for introducing the tech community to innovative new products, apps, and websites—and they happen to also have an app that distills all of this information into bite sized pieces. What we love most about the mobile app design is its minimalism. It focuses on the stories with simple black and white backgrounds, accompanied by short copy and images, allowing the user to tap to learn more about each story. It only has two buttons once a user is looking at a particular news story; exit and share, to keep the UX streamlined. Sip News also collects the best content from social media sites, in relation to the top stories and gives users the ability to take polls about the news they've read. In all, this app makes it easier than ever to stay up to date on the tech industry with a simple design.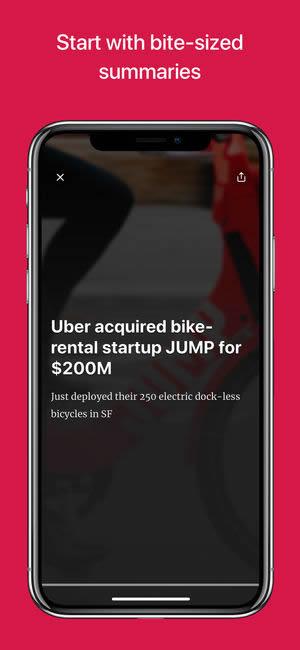 CareerBuilder is taking the job search to the next level. With new AI and AR functionalities, job searchers can get job alerts based on the neighborhood they're traveling through and get suggestions for new skills based on the jobs they're interested in. When it comes to the app design, CareerBuilder takes a straightforward approach, with a white base and blue and green accents. The map function is the most remarkable, as it shows you jobs nearby, the company that's hiring, and the expected salary. Having all the essential information superimposed on a map helps job seekers understand exactly what they need to know about a job before applying.
MasterClass is a breakthrough concept because it brings the knowledge of experts to the masses wherever they happen to be. The company combines the best writers, athletes, chefs, and more; so it's only natural that the app would match the world class content with a sleek and modern design. It centers on high quality videos, that are easy to scroll and search through. It doesn't try to distract with flashy microinteractions or unexpected UI designs, instead it is a simple and classic black and white color palette with the occasional red accent. With content this good, MasterClass can let their core offering do the talking and let the design effortlessly lead users to it.
Learning a new language is always a good use of time—and when it involves a stunning design, it doesn't get much better than that. Luckily Drops enables users to learn a number of languages on the go with a design and teaching style that makes it hard to resist. This language app stands out from the crowd because of its color palette, featuring several gradients that are quite pleasant for users. In addition, the creators of the app aimed to make language learning fun by gamifying the process with word scrambles to determine the spelling of a vocabulary word. By focusing on easy to understand icons, Drops helps learners commit new words to memory while they have fun.
5. Over Edit & Add Text to Photos by Over, Inc.
As unfortunate as it is, not everyone can be an amazing designer. For those who have found their calling in a different field, but still want to up their Instagram game or design a birthday invitation, there's an app called Over. Over is a creative tool that helps users spruce up photos with borders, text, filters and more to use commercially and personally. The best part of the app, as you may have guessed, is the design. It involves pastel buttons, minimalist icons, and beautiful images to swipe through. The app has an Instagram feel to it even, with a section to inspire users as they start on their creative journey.
That wraps up the apps for September, but if you'd like to explore some of our other favorite mobile app designs, check out our August installment.
Feeling inspired? Sign up for free with Proto.io and prototype your own app in minutes.
If you enjoyed this curated list of great mobile app designs, share it with your social network! Do you have a suggestion for the next edition of our Top 5 Mobile App Designs series? Reach out to us via Twitter @Protoio or on Facebook.