Introducing the new Proto.io App, now with offline mode! Download your prototypes to your device and use them anywhere and anytime you need them.
At Proto.io, our mission is to make it easy and fast for you to create and showcase realistic mobile app prototypes.Our native apps play a big part in showcasing your prototypes to your audience: colleagues, customers, investors. However, there is nothing more embarrassing than to be standing in front of an audience, ready to show off your work, only to find out that your internet connection is acting up.
Not anymore — now, with our native iOS and Android apps, you can download your prototypes to your device and use them while offline. It's just like having your app on your phone. It's always there, loads fast, and performs well. You never need to worry about the connection to confidently demo your prototype.
How offline mode works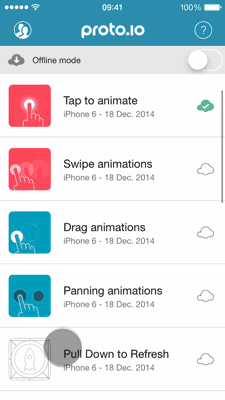 ◀ Download your prototype
Downloading your prototype is as easy and launching it. Any Prototype you view on your device is automatically downloaded.
(Hover image to animate)
View your prototype ▶
Your downloaded prototypes have a green cloud icon next to them. These prototypes are on your device and ready to be demoed when you are.
(Hover image to animate)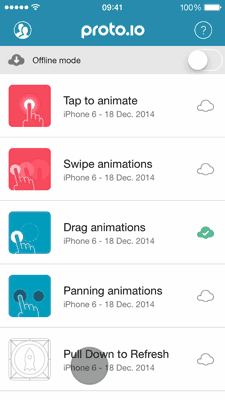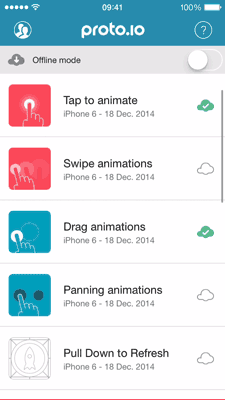 ◀ Offline mode
If you want to view your prototypes which are on your device, you can just flick the "Offline mode" switch.
(Hover image to animate)
Delete downloaded prototypes ▶
If you don't want to retain certain prototypes on your device in order to save space, hit the green cloud icon and the prototype will be removed from your device. You can also delete specific versions.
(Hover image to animate)