Are you recruiting for your startup or enterprise? Then you should strongly consider inviting liberal arts graduates to your first round of interviews. It has become more and more evident that adding team members with degrees in subjects like music, psychology, theatre and philosophy can add tremendous value in the dynamic environment of the technology sector.
You might be asking how? Very simply, liberal arts graduates are some of the sharpest critical minds you will ever come across who also have the innate ability to understand the human experience and connect with your users. They have the skills executives want on their team.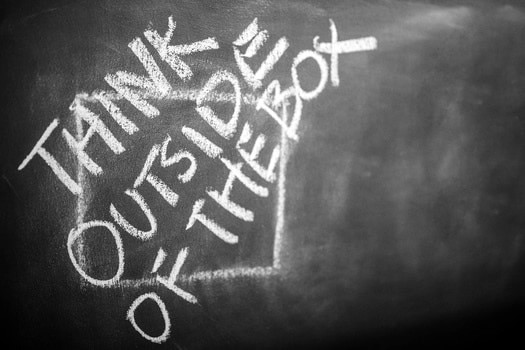 According to the University of Southern California Annenberg School of Communication and Journalism's study looking at what gaps 75 high-level executives saw in their candidate pools, there were five main "soft skill" competencies that were lacking, including empathy, adaptability, 360-degree thinking, intellectual curiosity, and cultural competency.
The study concluded that while future leaders need to be strong in areas like quantitative and tech skills, they also need to be capable of having a deeper level of holistic critical thinking to ensure a greater chance of arriving at creative solutions to complex problems.
Enterprise companies are also starting to catch on to the potential of liberal arts graduates. According to LinkedIn, "the growth of liberal arts majors entering the technology industry from undergrad outpaced that of computer science and engineering majors by 10%. Internet or software companies are especially popular—38% of all recent liberal arts grads in tech currently work in this space."
And for a good reason. Liberal arts graduates are naturally curious, problem solvers, listeners, observers, synthesizers, communicators, and storytellers. These all hold enormous value in the tech world, especially in content strategy, UX design, user research, digital marketing, and coding.
More and more technology companies are starting to realize the disruptive power of liberal arts thinking.  There is no doubt that being able to connect with users and their end goals is essential to a software company's success. Skills like critical thinking, relationship building, empathy, and communication should no longer be seen as "soft" skills, but rather "essential" skills.
Steve Jobs said it best when he said: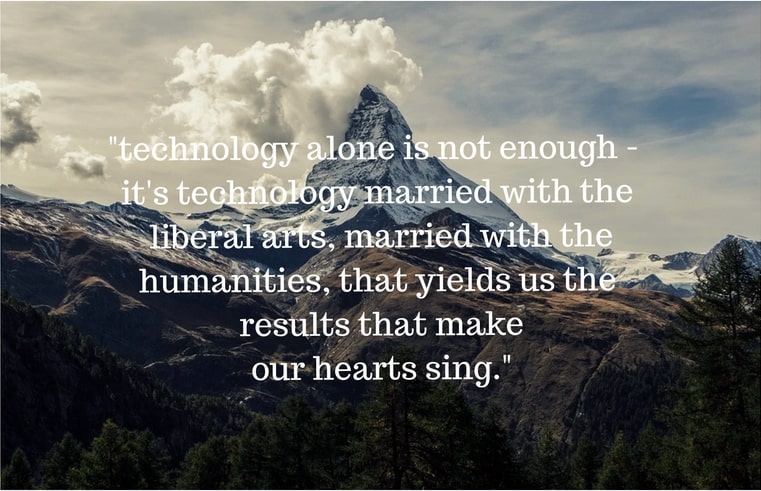 I recently had the pleasure of asking Geoffrey Colon, Communications Designer at Microsoft and the author of the new book Disruptive Marketing: What Growth Hackers, Data Punks, and Other Hybrid Thinkers Can Teach Us About Navigating the New Normal , if the recent push for students to pursue degrees in STEM has diminished the benefit of getting a liberal arts degree. Colon responded,
"I think a liberal arts degree is more important than ever in our evolving world. That being said, it alone cannot move the world as much as a hybrid discipline where one learns critical thinking and a skill like coding or UX or design. The world is moving more in this direction and this education must evolve to adapt to these changes."
There is an ever-growing list of CEO's and tech disrupters who started off with degrees in liberal arts. The CEO and co-founder of Slack, Stewart Butterfield, was himself a philosophy major in college and later received graduate degrees in philosophy and the history of science.
Butterfield shared in this Forbes article, "Studying philosophy taught me two things…I learned how to write really clearly. I learned how to follow an argument all the way down, which is invaluable in running meetings. And when I studied the history of science, I learned about the ways that everyone believes something is true–like the old notion of some kind of ether in the air propagating gravitational forces–until they realized that it wasn't true."
Here are four reasons why you shouldn't dismiss candidates with a liberal arts education:
1. Students learn how to solve problems through critical thinking.
Learning to think critically is not easy to do and it takes a lot of practice. But once students learn how, there is no situation or problem that they can't analyze and evaluate. Liberal arts students will learn how technical concepts relate to real-world situations by solving real world problems and at the same time nurturing their curiosity.  
The co-founder and CEO of AirBnB, Brian Chesky, was an artist turned entrepreneur who disrupted the entire travel industry with his vision to help connect travelers with the cities they were visiting in an entirely new way. In a recent interview Chesky stated that he always was an entrepreneur and that he "grew up as an artist, which is similar to an entrepreneur in that you have a vision and you have the freedom to create it. Being an entrepreneur, you also have access to resources and people who can take your vision and help you bring it to the world. One of the tenets of industrial design is that you can be in service to the world and improve things in a meaningful way. To change the way millions of people live around the world is very compelling."
Innovation comes from identifying problems in our world and solving them. Liberal arts graduates are prepared to be flexible and draw upon a diverse set of tools and insights to solve the problems of the future.
2. A liberal arts education teaches students how to make complex concepts clear. 
This is not something you learn overnight but rather it becomes a lifelong skill that can be applied to a variety of disciplines including software engineering, interaction design and UX. As a UX designer, I am always having to help break complicated concepts down to help stakeholders understand strategies, constraints and design choices.
UX designers break apart messy flows into smaller more clear chunks to reduce errors and help users accomplish their tasks quickly and effectively. These same designers are also often the ones defining terms in a language that is easy to understand and appropriate to help users feel confident while completing a task. UX designers are tasked with designing the visual hierarchy of a site which creates a way for users to get from A to B easily which, as you know, is not as easy as it sounds.
These are all examples of how designers with liberal arts backgrounds can really thrive in making user experiences functional and intuitive which is an essential goal for businesses and users alike.
3. The multi-disciplinary aspect of a liberal arts education adds valuable dimensions to workflows and is an essential aspect of productive and successful collaborations. Take a look at this recent New York Times article "To write better code, read Virginia Woolf."
In the story, the author talks about how a music major solved an engineering hurdle because she was able to move freely and "instead of freezing up over the logical permutations behind each A and S, she found that these symbols put her in the mind of musical notes. As notes, they could be made to work in concert. They could be orchestrated."
Programmers with backgrounds in applied psychology may have a better chance of convincing their management team to spend more time on a refactoring project because they have skills in motivation. And UX researchers with backgrounds in qualitative and quantitative research will add actionable insights into your user research and user testing processes.
Also, with the rise of conversational and personality interfaces for chatbots being a very hot design trend at the moment, we are starting to see more and more startups such as Howdy and X.ai hiring writers with backgrounds in improvisation, theater, and folklore. These writers have experience creating multi-dimensional characters and understand how specific words and phrases can affect a specific set of users and create desirable connections between humans and technology.  Giving writers a voice at design meetings to collaboratively develop interfaces with designers through images and words will only make the chatbot user experience more useful, intuitive and human.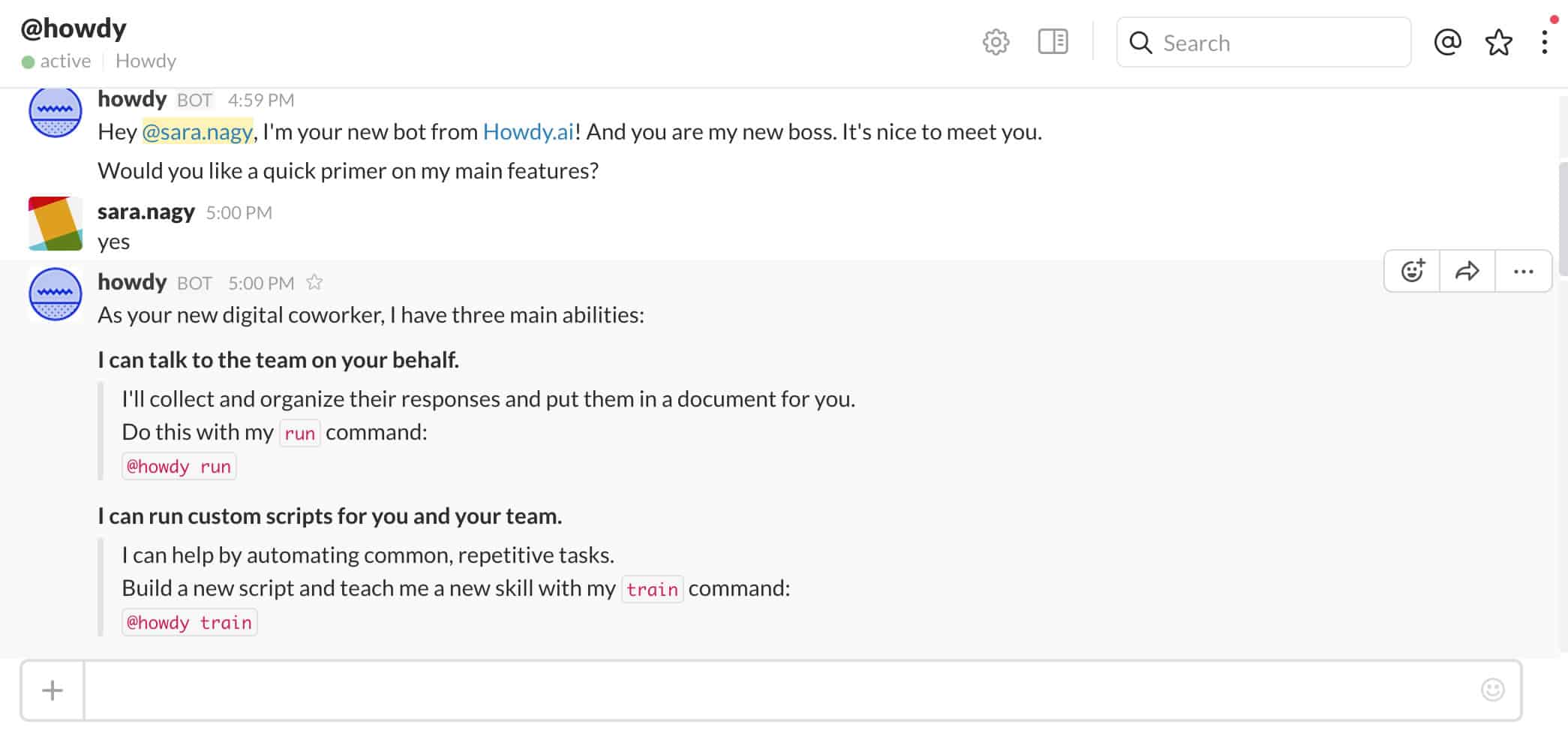 Collaboration between team members that have a complementary and diverse range of skills in multiple disciplines will only make your team richer and more successful.
4. Students learn how to communicate. Sounds simple, but honestly, there are way too many people out there that don't know how to explain things well in writing or orally. When it comes to UX design and content strategy, language and the power of storytelling is incredibly important for usability. This holds especially true on mobile screens where text is limited due to screen size. The difference between using one word or icon over another could be the reason why a user stays loyal and completes his or her task or if that same user never signs on again due to confusion or boredom.
Being able to tell a clear story in words and visually has become a core goal for tech companies and liberal arts graduates.
Communication comes in many forms and the power of listening and observing is something that is often overlooked but is essential to the success of any business. It is often during those times of silence where powerful and actionable information is revealed whether during user interviews, testing or strategy sessions. Liberal arts students learn how to listen and truly hear what people are saying through their skills in observation, empathy and relationship building. They also know how to interpret what they are hearing to validate or invalidate hypotheses and then properly share their insights in a clear and concise way with the relevant stakeholders.
Being able to connect with users, clients, stakeholders and other team members including engineers, designers, and product managers is an incredibly important quality that hiring managers should hold in high regard. These graduates have hours of experience attending interactive seminars and working on collaborative projects. It is during these seminars that they learned how to connect with people easily, ask the right questions, synthesize, analyze and share their results and ideas.
In the world of agile and lean practices, communicating successfully with your team of developers and designers and being able to take constructive feedback whether in pair-programming or during daily standups is essential to meeting deadlines and shipping products successfully.
Colon's advice is to "learn a hard skill while learning the soft skills that carry you through life and help with pivots and adjustments found in a liberal arts discipline." Stating that "while many think STEM is the answer, machine learning, AI and the democratization of big data will place more of an emphasis on the humanities than ever before."
There is no question that liberal arts graduates that have a combination of hard skills like Ruby on Rails or interaction design and the essential critical skills learned in a liberal arts discipline are the best equipped to respond to the ever-changing world we live in.
Next time you come across an applicant with a degree from a small liberal arts college think about all the essential skills and experiences they can bring to the table that you may have previously dismissed, and reap in those benefits!