Summer is finally here and the app scene certainly got the memo. With countless apps coming out each day, there are always new and exciting mobile app UI designs to check out. This month, we've got some great apps in store for you from creating gifs to learning how to code in a new language. You won't want to miss this month's edition, so let's jump right in.
As an app designer or developer yourself, you probably know that coding skills are in demand across many industries. From graphic design to SQL, the Py app helps you learn to code through gamification. Instead of having to enroll in a time consuming coding bootcamp, Py teaches you how to code in your free time, similar to how you can learn a language in Duolingo. When it comes to the mobile app UI, it is simple, with mostly white and gray tones. Bright colors like green and yellow are used as accents to show your progress in a course or important phrases when learning key concepts in languages. The no frills, yet elegant design shows an understanding of Py users' desire to get into the app, learn what they need to know, and get out quickly.
Get Py on iOS.
Source:  iTunes
2. Yeay by Yeay
Yeay is like an eBay for gen Z… except items are sold through video. Gen Z grew up to Youtube stars and Snapchat, so making everyone a content creator was a smart move on Yeay's part. Craigslist, eBay, and even Amazon can seem like marketplaces for old folks when you think about the way youth communicate with one another and get excited about new products. Instead, Yeay users can follow brands, stores, and influencers to see vertical videos of the latest products on their feeds, as well as following youth like themselves. The mobile app UI is colorful and full of life. It fits in with the social media account aesthetic we're used to, with prominent header images, suggested accounts to follow, and videos you might like. It'll be interesting if this app takes off with gen Z, as Yeay hopes.
3. Miso Happy by Futurefly
With apps like Bitmoji, we're used to seeing ourselves as stickers we can put on our Snaps or send as responses in iMessage. But when it comes to 3D images of ourselves, that mostly makes me think of JibJab cards. Then Miso Happy came along and totally changed the selfie game. With the help of AR, you can upload an image of your face, choose a character, outfit, and backdrop, then see your likeness dance around, relax on the beach, etc. The app itself is very straightforward to get you to the creative steps as quickly as possible. Just like with Instagram, the mobile app UI design lets you swipe through options and see your character change in real time. Once you are content with all the features and stickers, you can send the gif of yourself to all your friends.
4. MoneyLion by MoneyLion
MoneyLion is a personal finance app that helps users out on multiple fronts. They can use it to check and improve their credit score, apply for a loan, and boost their savings. That's quite a lot for one app to take on, but the clean and sleek mobile app UI of MoneyLion makes it possible. The app incorporates graphs to show an in depth breakdown of your progress over time. Their use of cards makes it easy to swipe through the different features and get to the section you want to check out. They use muted colors, with blue and green accents, as is popular with financial apps.
I don't know about you, but in college I liked to take notes with a pen and paper. That was the best way for me to be able to draw graphs, pictures, and arrows to make sure I had the best studying materials. But now with apps like Bear app, that's all possible on Mac products. You can type or draw out any ideas you have and access them across devices. What makes Bear stand out over their massive competitor, Evernote, is their simple design. They keep it to a minimum with three panes showing your current, recent, and pinned notes. This makes it much easier to stay organized, which is the point of having notes after all.
Get Bear on iOS.
6. Token by SendToken
Sometimes giving the right gift can be tricky. Not every moment in life has a gift registry with the options literally looking you in the face. Luckily now there's Token. After you put in the relationship to the gift recipient, the occasion, your budget, and other information you feel is important to know, Token's AI-powered platform scours their database of potential gifts for the right one. Then when it narrows down the recommendations, you get to make the final call. This app is definitely targeted towards busy users, so its mobile app UI design is understandably minimal. It features a grey, black, and gold format, with colorful options when entering in the recipient data. It also has attractive product images, so you know exactly what you'll be sending to that special someone.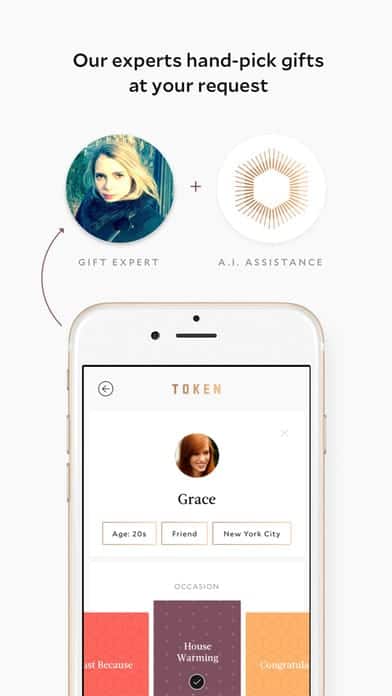 Social media can become a timesuck, or even worse, a source of anxiety for some. To combat that, a new "social media" site has come out that knows that social media can be pointless and aims to remove the stress from it. Binky is a great way to spend time online because, just like on other sites, you can swipe through random content and like it if you wish, but none of it is connected to anyone you know. If social media is your favorite way to waste time on your morning commute, Binky might be worth a download. It's surely the most sarcastic social media apps out there. But its design is as simple as the idea, with dark sea green borders and an endless list of "binks" to scroll through.
Get Binky on iOS.
Summer vacations and your favorite magazines go together like two peas in a pod. But when you're on a quick trip and don't want to carry too much, you were usually in a bind when it came to the things you wanted to read. Texture solves that by offering access to over 200 magazines within one app. Whether you're reading on your phone or tablet, you can read through your favorite magazines or explore new ones. What I love about the mobile app UI is that it manages to pull together all of those magazines into easy to navigate categories that put the colorful covers front and center. It keeps text to a minimum so that you can get on to reading a magazine without fewer steps in between. The mainly gray, black, and blue palette provide a calm experience.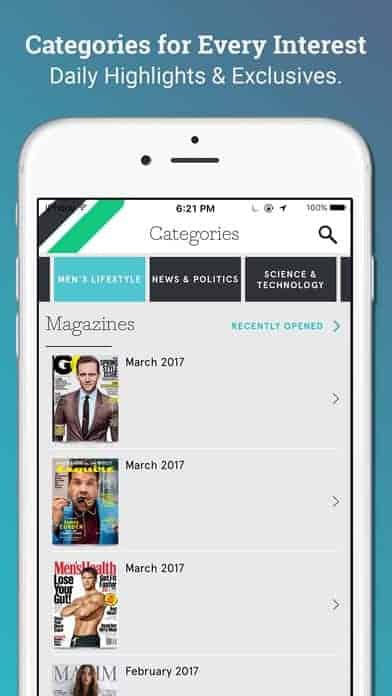 Summer is the perfect time to get outside and explore and the Outbound is on a mission to help you do just that. Whether you're looking for a hiking trail near you or inspiration for your next cross-country trip, the Outbound has it all. It makes sense that the app is so image focused, as the view from the top of a mountain is a good chunk of what motivates you to climb it. The app incorporates ratings and helps you sift through adventures based on athletic level and whether your dog is with you, for instance. The mobile app UI design is simple and lets the images and user generated content help you figure out what adventure to go on next.
Get The Outbound on iOS.
10. Clippy by Sourmash Labs Inc
Gifs are everywhere these days. From social media to iMessage, you really can't escape them, so you might as well join in the fun, right? Clippy is just the app for that. It allows you to make short gifs from Youtube, or any other website with video content. You can even put your personal touch on the gif by adding on stickers, emojis, or text. Within the app, you can explore popular new gifs or choose to share them on your favorite social media site. It's both an app for creating gifs and keeping up with the latest funny clips. When it comes to creating a gif, the mobile app UI features easy to use customization options to swipe through, from bitmojis to text. On the other hand, when exploring gifs, the experience looks a lot like Instagram, with great UX features. It gives you the option to toggle between new gifs and popular ones to keep you up to date. Overall, this app is a ton of fun if you want to dabble in the gif game.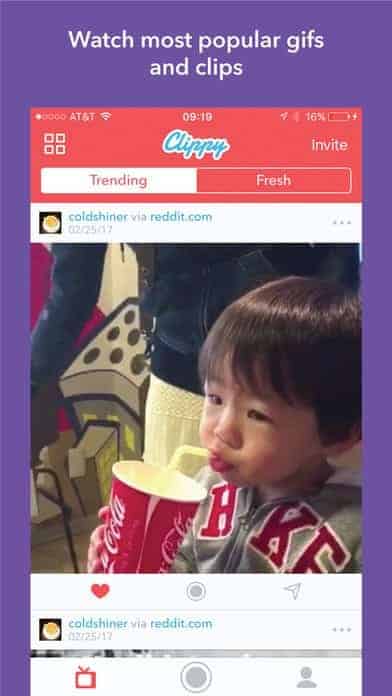 That wraps up the apps for June, but if you'd like to explore some of our other favorite mobile app UI designs, check out our May installment.
Feeling inspired? Sign up for free with Proto.io and prototype your own app in minutes.
If you enjoyed this curated list of great mobile app designs, share it with your social network! Do you have a suggestion for the next edition of our Top 10 Mobile App UI series? Reach out to us via Twitter @Protoio or on Facebook.