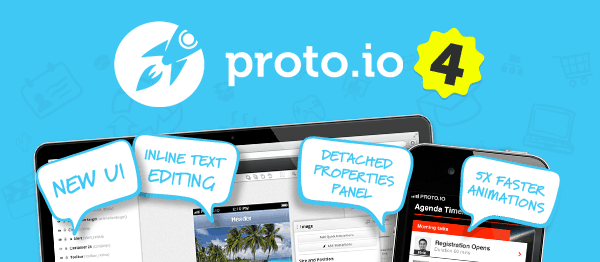 We are very excited here at Proto.io to announce our latest major release Proto.io 4! We consider Proto.io 4 a breakthrough, not because of its abundance of new features but for the new UI that will allow users to prototype faster and better than ever. Revamping the editor UI to focus on usability and user experience was a long standing goal for us, one we have been working on for some time now. We realize that we have 'sacrificed' the priority of features that could precede this release. However, with the totally revamped user interface of Proto.io 4 we will be able to deliver new features and functionality faster than ever, and that's what we are most excited about! In other words, you should expect many amazing things to happen really soon!
For now, here is a list of some of the things introduced in Proto.io 4:
Editor
Completely revamped editor interface
Detached properties panel
Intuitive, grouped properties for all components
Select & edit individual dynamic properties
Inline editing for text properties
Live update for color properties
RGBA support for colors
Customizable project color palette
Reworked Size & Positioning panel
Revamped Item Browser with sortable dynamic properties and inline-editable item captions
Contextual menus
Key commands for incrementing/decrementing numeric properties
Convert item/group of items to container
Container breadcrumbs
Fit to screen zoom
Improved history (Undo/redo)
Interactions
Copy/Paste interactions
Quick interactions
Drag to reorder callbacks
Player
Introducing new animation engine to speed up animations by 5x
Redesigned to match new editor style
Fit to screen zoom
We would love to hear your thoughts and feedback! Please share them at hello@proto.io.
If you are excited about Proto.io 4, feel free to shout it on Twitter and Facebook.
On behalf of the Proto.io team,
have fun!
Alexis Piperides
CEO