2017 offers a great lineup of design conferences taking place all over the world. They are great vehicles to learn about emerging trends in the field and offer unparalleled opportunities to learn from leaders, as well as your peers.
The following list of conferences is geared towards everyone from newcomers to the design field to startup founders, and CEOs of enterprise companies.
The internet of things (IoT), artificial intelligence, and virtual reality will be prominent points of discussion at 2017 design conferences.
Whether you can attend for a day or for the entire conference, it will be well worth your investment to mark these dates on your calendar. You might even consider applying to be a speaker!
February 28-March 2, 2017
Seattle, WA USA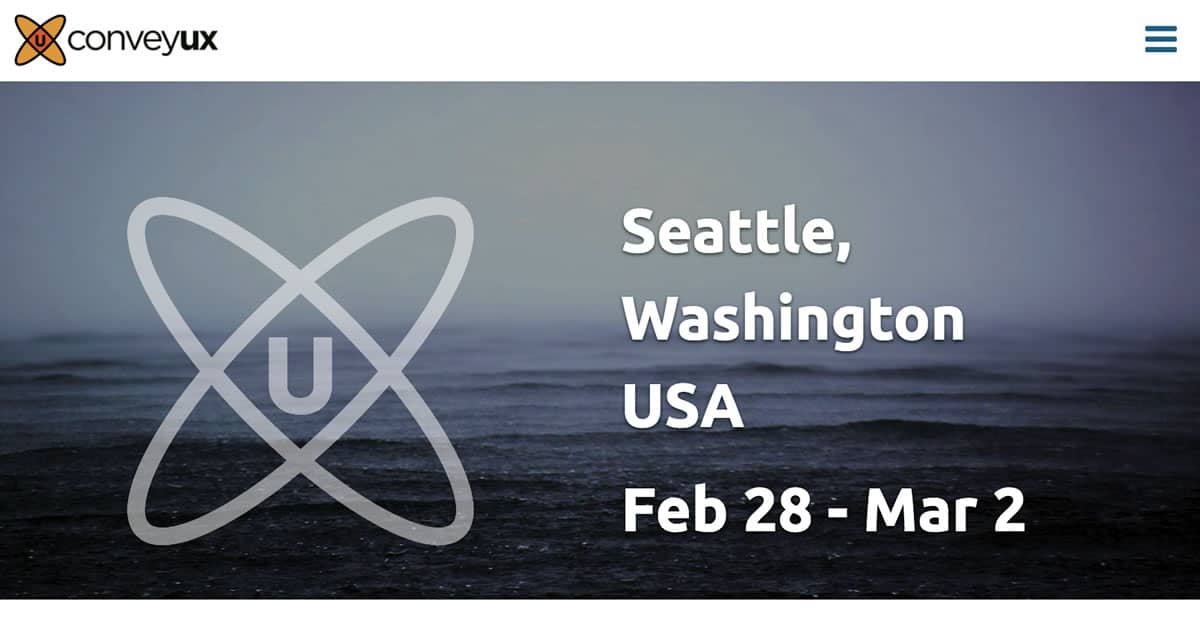 Image Source: http://conveyux.com/
The 5th annual Convey UX conference celebrating research and design in the Pacific Northwest offers locals and visitors access to high caliber speakers, like Steve Krug and Amber Case, as well as opportunities to engage with peers through speed networking and other fun social meetups. Krug will speak about why not conducting user testing is a terrible idea and Case will discuss why it is important to consider the context of the user's environment for your designs. Seattle is a beautiful city and as the website states "if you haven't been to Seattle before, this is a great time to get introduced. It might rain a bit in February but the temperatures are always mild."
March 2-4, 2017
Toronto, Canada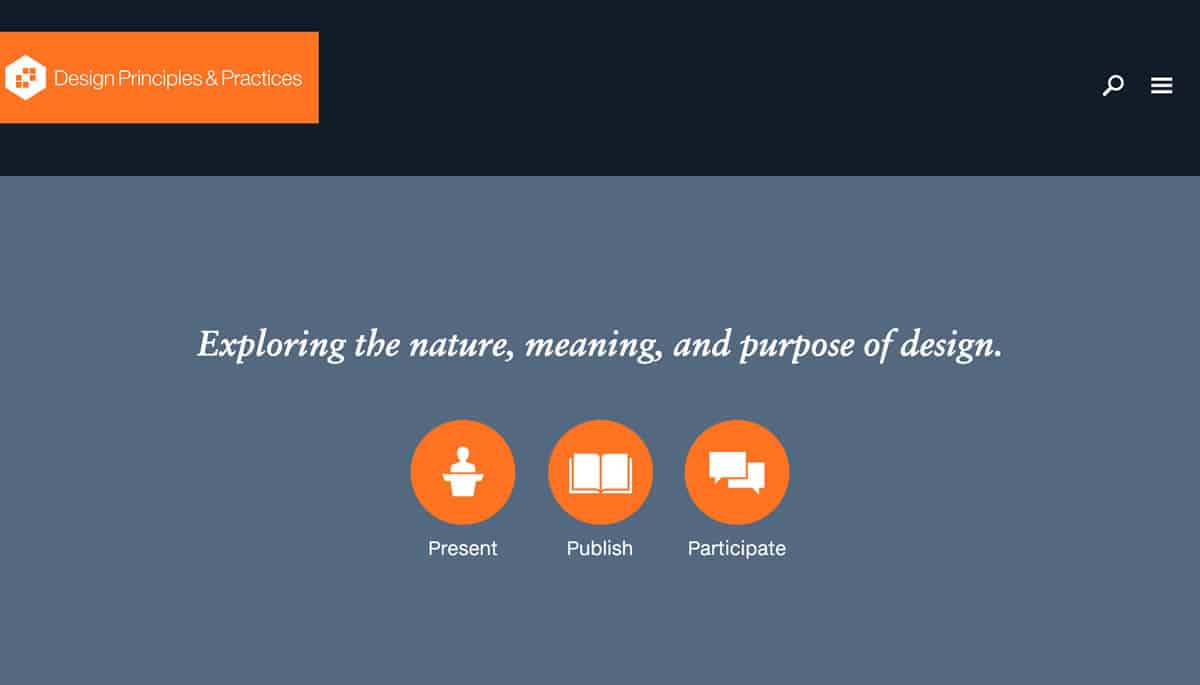 Image Source: http://designprinciplesandpractices.com/
The Design Principle and Practice forum explores the meaning and purpose of design through trans-disciplinary dialogue. Topics covered include design education to become a designer, design in society, and the nature and form of the objects of design. The special focus of the conference for 2017 is design for the global village. It is built on four key features, including internationalism, interdisciplinary, inclusiveness, and interaction. Speakers for this years lineup have yet to be announced. Last year's conference in Brazil included Jorge Lopes, Rita Couto, and Guto Requena.
March 19-22, 2017
San Francisco, USA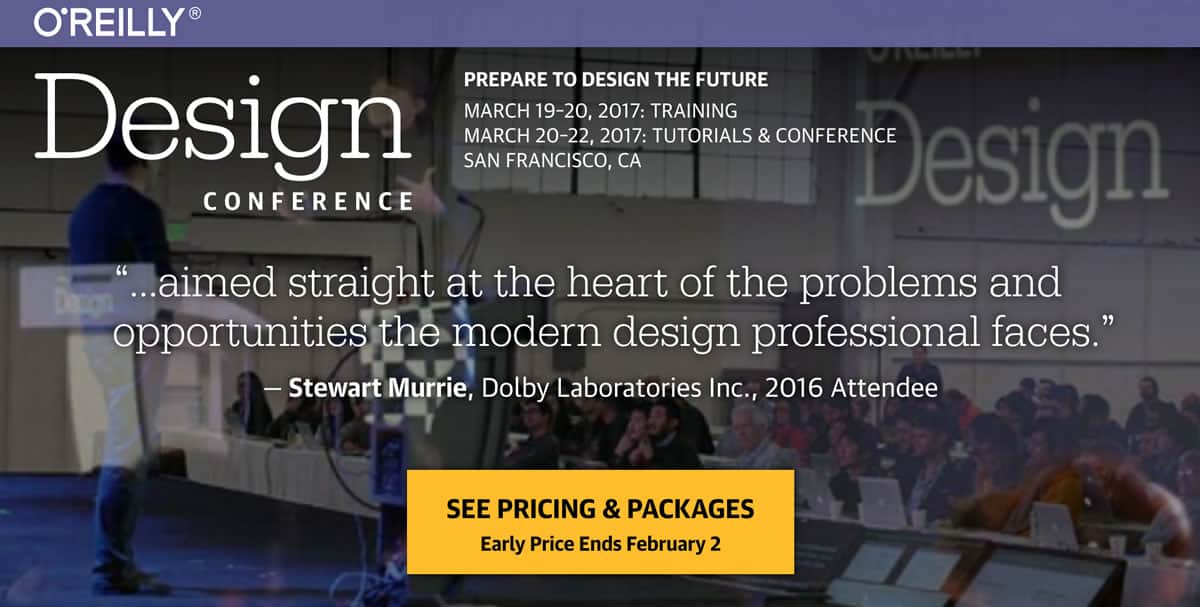 Image Source: https://conferences.oreilly.com/design/ux-interaction-iot-us
The O'Reilly Design Conference is a deep immersion event focused on providing designers with a full stack set of skills to keep them on top of their game and creating the best products. You can also attend two days of training courses on topics such as conversational UI, designing data visualizations, essential business skills for designers, and design sprints. Speakers are of the highest caliber and include Julie Zhuo and Alan Cooper, among many others.
April 20-21, 2017 Oxford, UK
May 3-5, 2017 Manchester, UK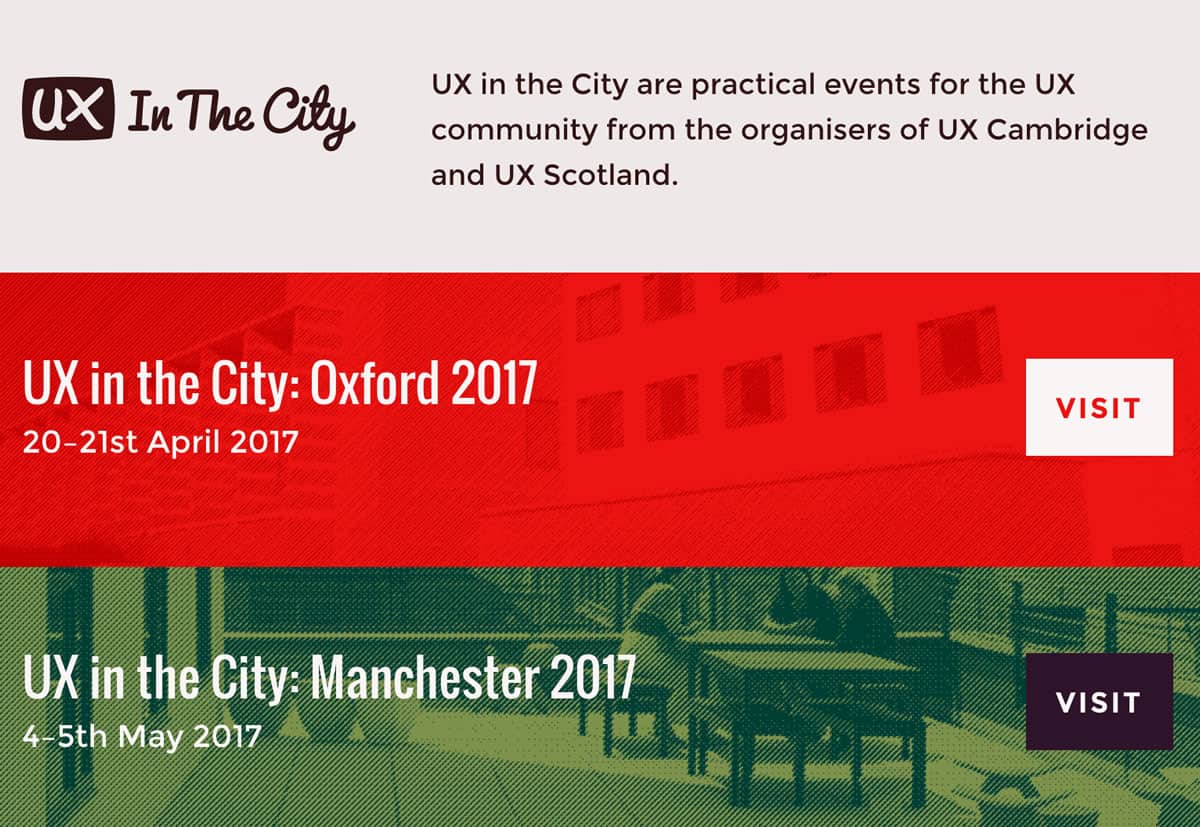 Image Source: http://uxinthecity.net/
This two-day conference is a hands-on event for UX practitioners focused on high quality learning experiences from peers and industry leaders. The event offers you the opportunity to engage with the UX community over the course of the two days through  a variety of workshops and case studies. You will leave the event with new contacts and a fresh set of skills you can start implementing immediately into your workflow. Topics covered include service design, design research, running design teams, and rapid prototyping. Speakers include Jane Austin and Kristen Skinner.
April 3-5, 2017 Seattle, WA USA
May 15-17, Boston, MA USA
July 10-12, Washington, DC USA
August 28-30, Chicago, IL USA
October 30-November 1, San Francisco, CA USA
December 11-13, Denver, CO, USA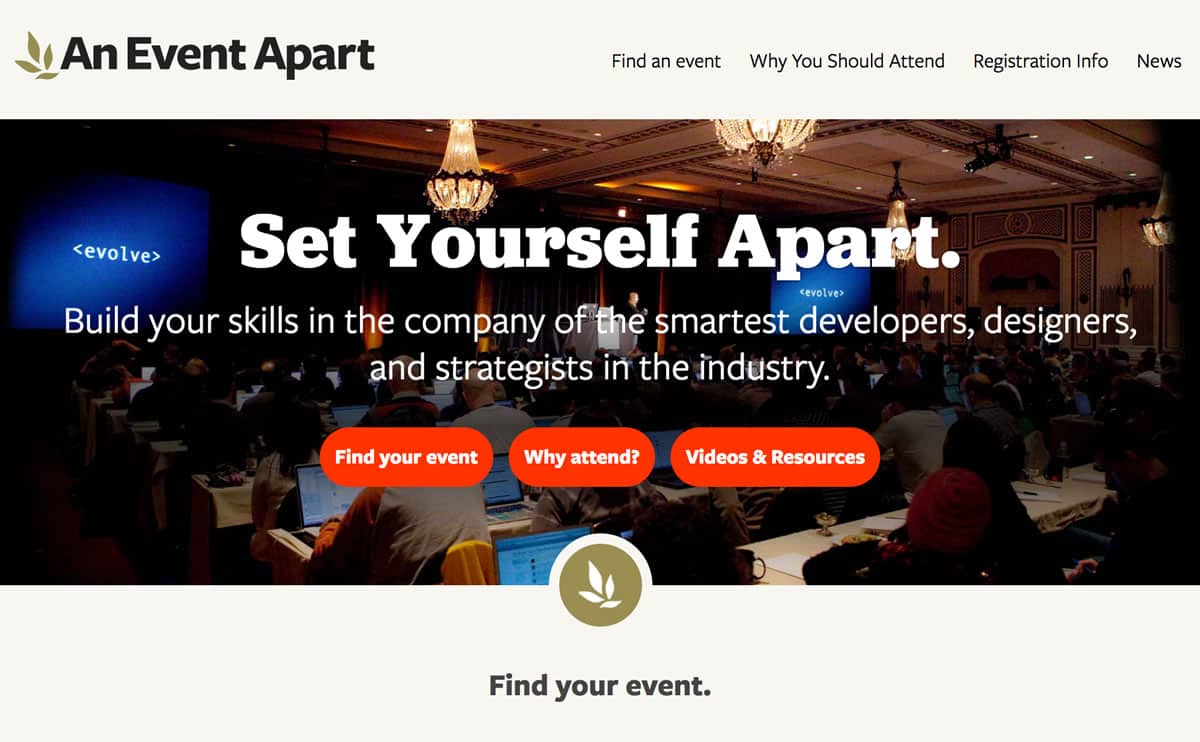 Image Source: https://aneventapart.com/
This three-day conference, from the same folks who bring you A List Apart, focuses on design and UX and is definitely worth the trip. UX professionals, designers, developers, project managers, writers, marketers, and content strategists will attend. Attendees have remarked on how accessible and approachable industry leaders are, which sets this conference apart from other conferences where that can be lacking. The lineup of speakers is impressive and includes Luke Wroblewski, Chris Coyier and Kristina Halvorson.
May 1-3, 2017
Portland, OR USA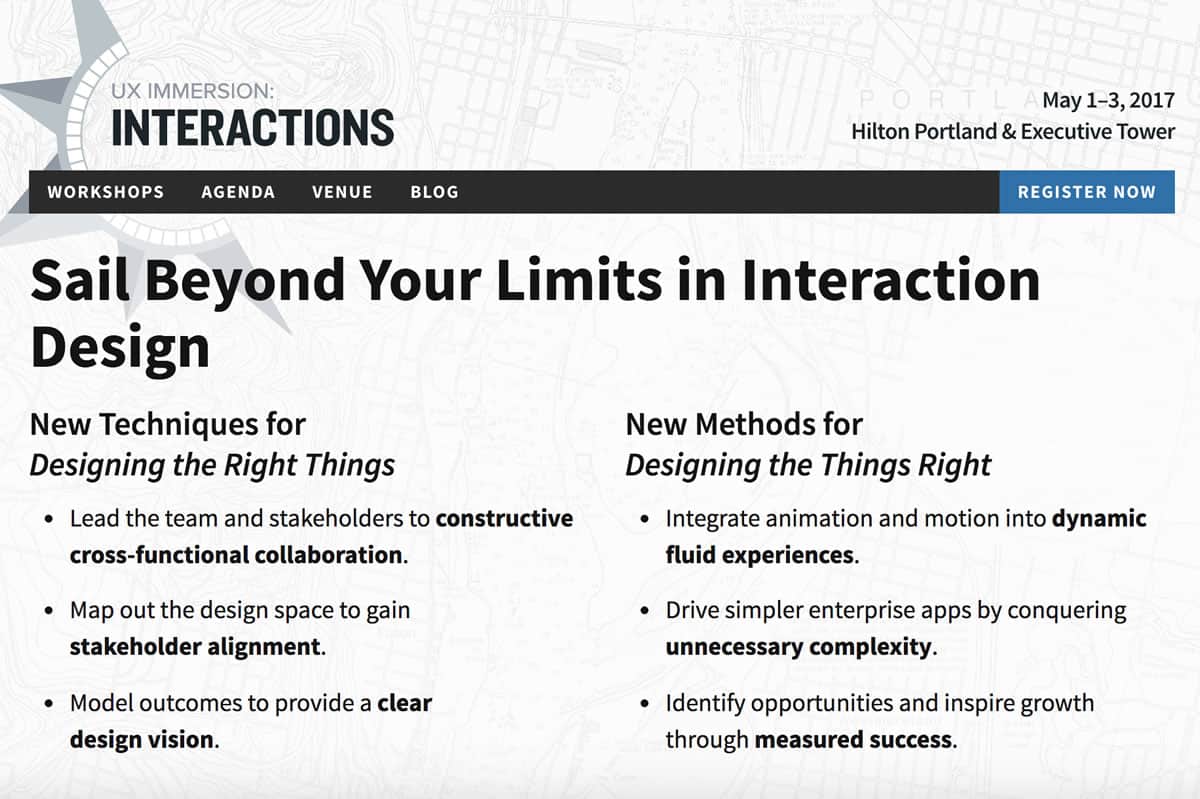 Image Source: https://uxi.uie.com/?src=main-nav
User Interface Engineering (UIE) put together the UX Immersion conference on interaction design to discuss new techniques and practices in the field of interaction design and user experience. You will be exposed to  cutting edge design methods you can incorporate into your own workflow immediately including animation and motion. Your ticket includes access to two full day master workshops on enterprise apps, prototyping, and UX metrics. Speakers include Jeff Gothelf, Kate Rudder, and Val Head.
May 2-6, 2017
Chicago, IL USA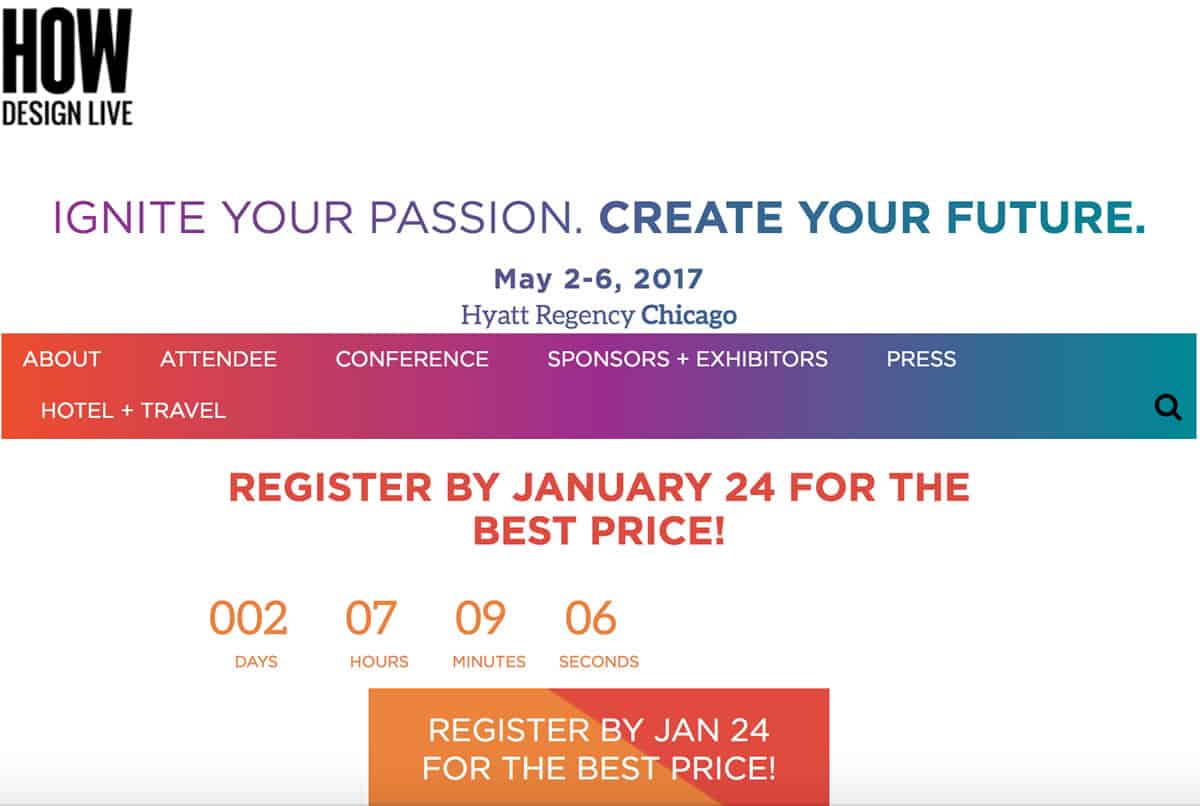 Image Source: http://howdesignlive.com/
HOW Design Live is focused on the need for collaboration between design and marketing professionals. It will include four program tracks; Branding and Packaging, Marketing and Strategy, Design and Creativity, and Tools and Resources. The event offers over 80 educational sessions that aim to change your thinking and improve your design work through a range of workshops and master classes. Topics you can expect to learn about are sketching and ideation, managing design teams, how AI will impact the future of design, and building a human centered culture. Malcolm Gladwell and DeeDee Gordon are two of the featured speakers.
May 3-4, 2017
Istanbul, Turkey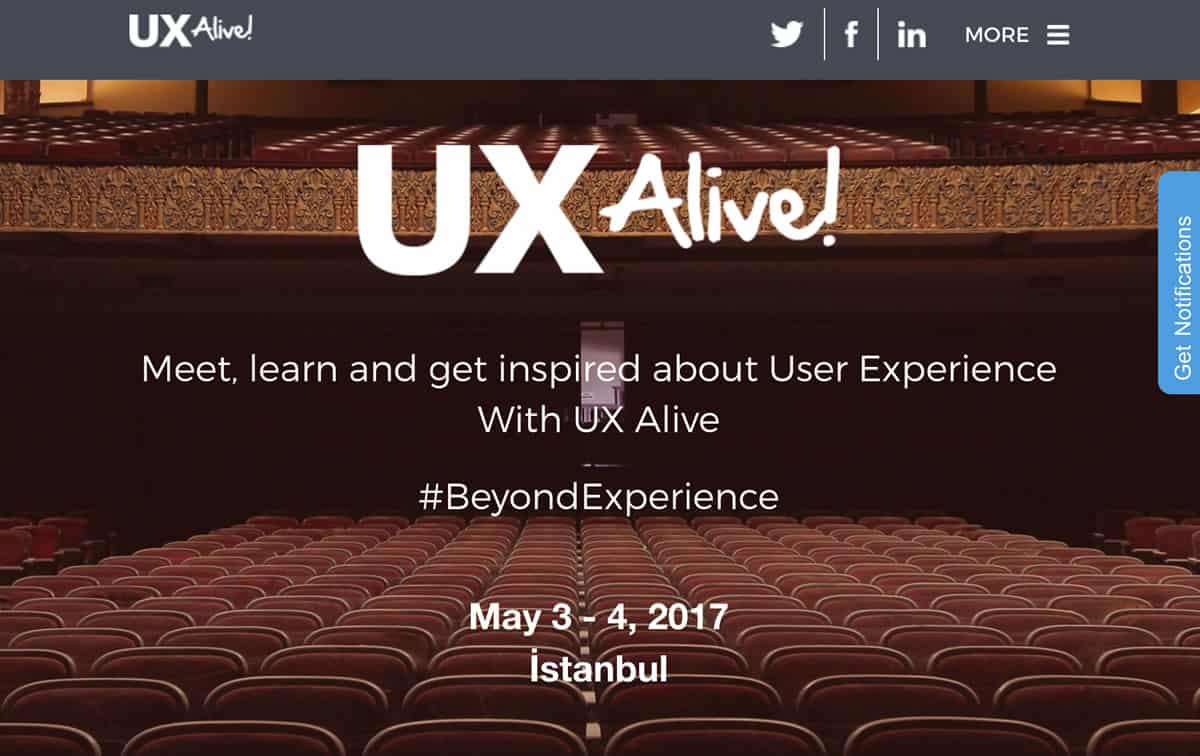 Image Source: http://uxalive.com/
UX Alive brings together start-ups, UX design agencies, and professionals from the corporate world to give them inspiration and education on a wide range of UX topics.
The first day of the conference is focused on talks and the last two on workshops that cover e-commerce, mobile design, usability, service design, UX methodology, and content. They divide the sessions into "how it is made" and "strategy." Speakers include Will Evans and Alberta Soranzo.
May 6-11, 2017
Denver, CO USA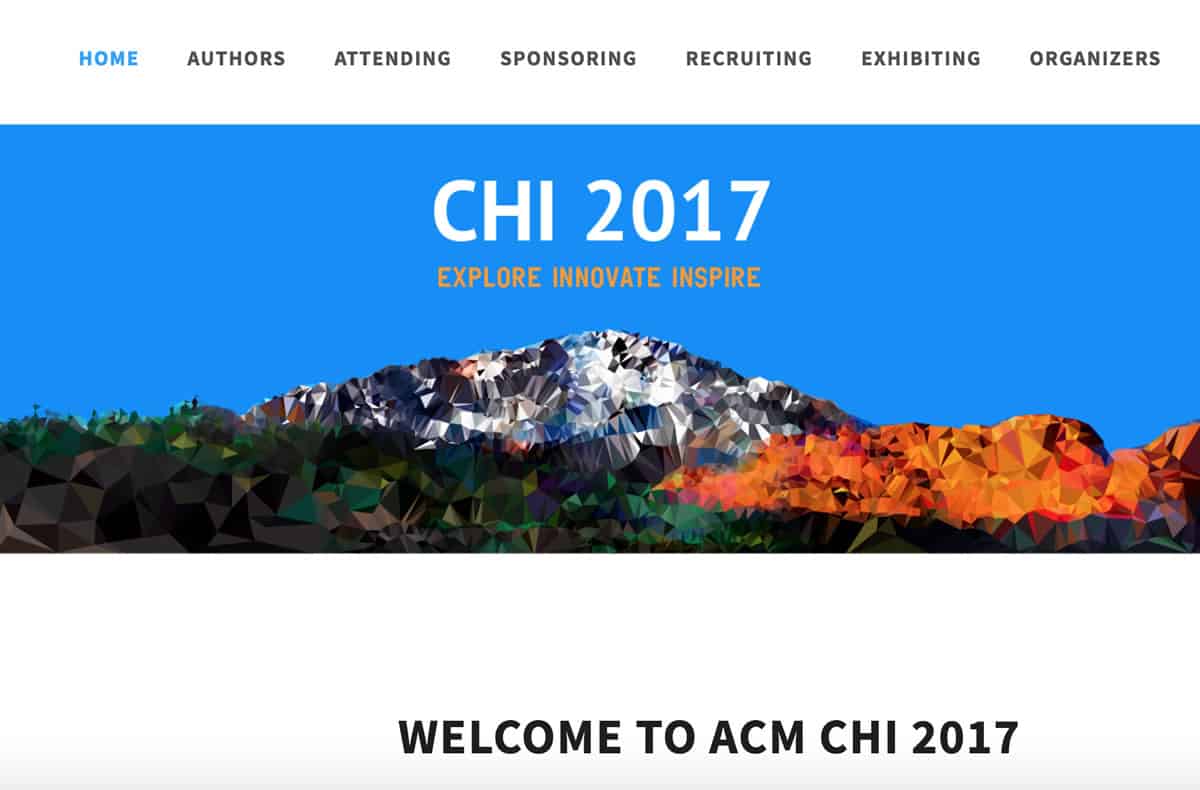 Image Source: https://chi2017.acm.org/
The ACM CHI Conference on Human Factors in Computing Systems is an international conference on human-computer interaction. The conference brings together people from diverse cultures and disciplines to explore new ways to practice, develop, and improve human-computer interaction methods and systems. The conference has an integrated focus on design and art and how they relate to current human computer-interaction methodologies.
May 23-26, 2017
Lisbon, Portugal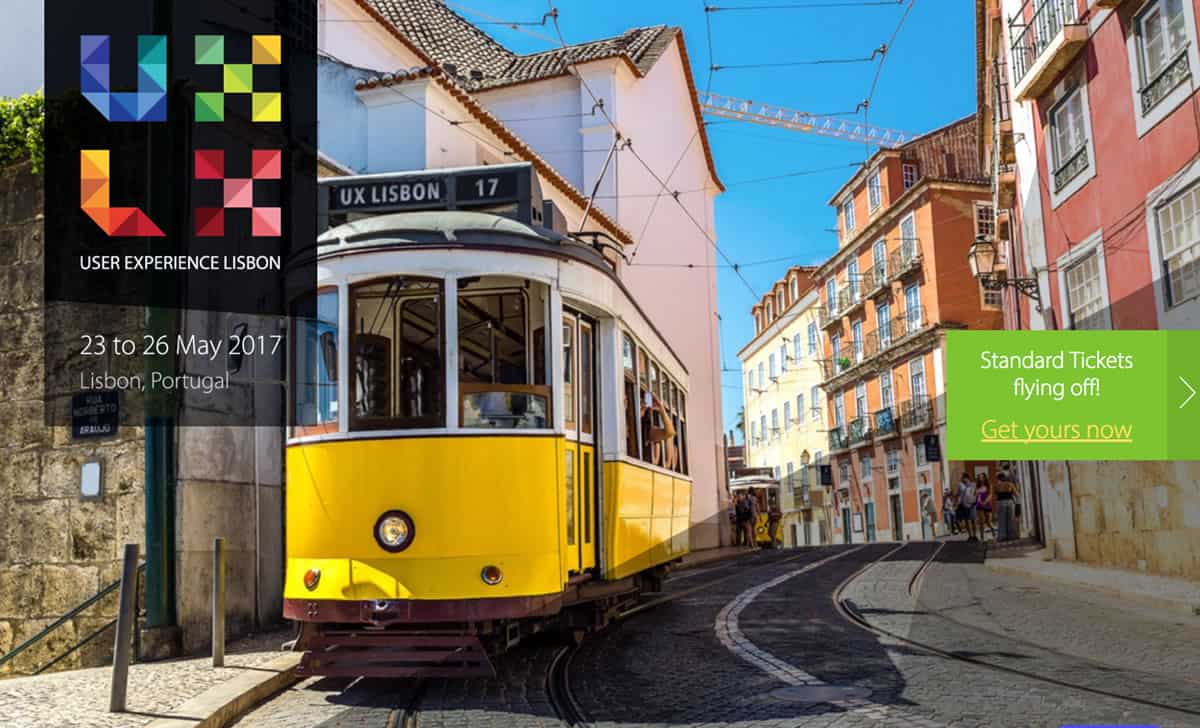 Image Source: https://www.ux-lx.com/
UX Lisbon includes four days of training and over 20 practical hands-on workshops. Over 500 attendees come from more than 40 countries, allowing you many opportunities to network with like-minded peers and industry leaders. I was in Lisbon in November attending the annual tech conference, the Web Summit, and can speak from personal experience that a trip to this beautiful city of lights and hills is well worth it!
May 24-26, 2017
London, UK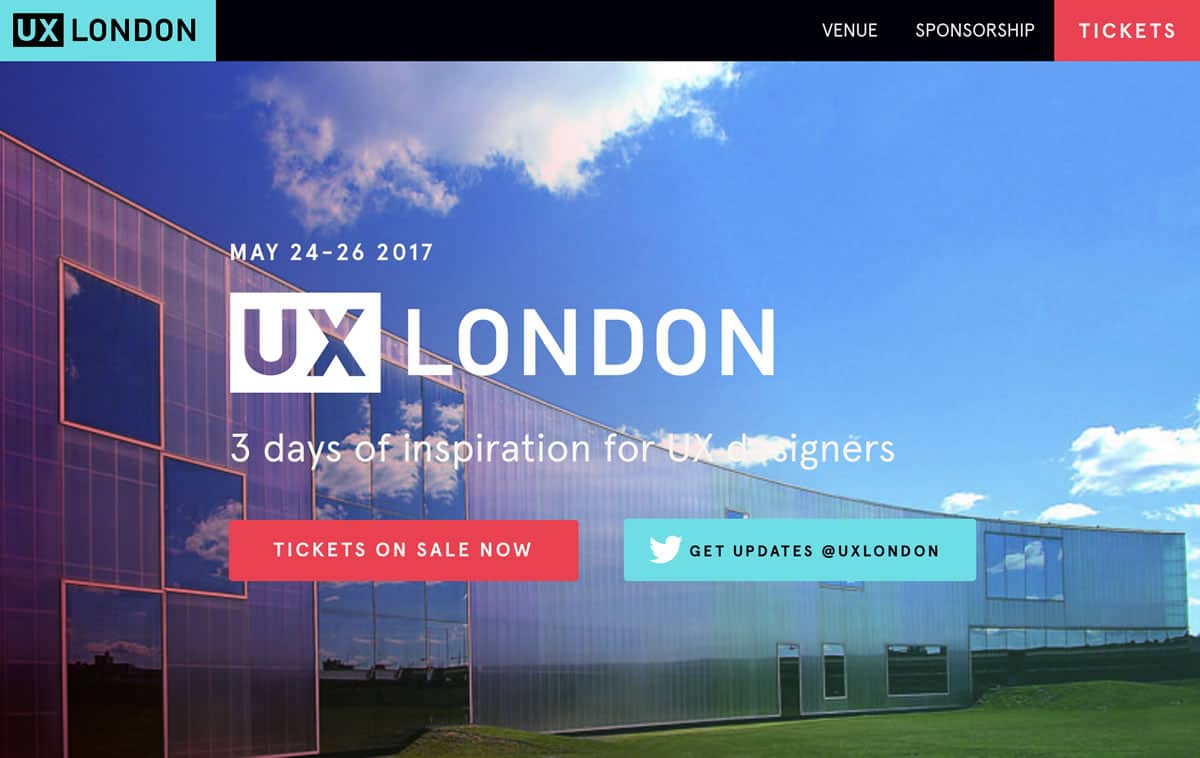 Image Source: http://2017.uxlondon.com/
UX London is a three-day conference organized by Clearleft that offers a flexible ticket option so you can attend specific sessions that you are most interested in. Day 1 is focused on product, Day 2 service takes center stage, and Day 3 explores design. Attendees love the hands on workshops and are impressed with the quality of the presentations, as well as the low key social activities as an alternative way to engage with your peers, like bowling and karaoke.
Enterprise UX 2017
Jun 7-9, 2017
San Francisco, CA USA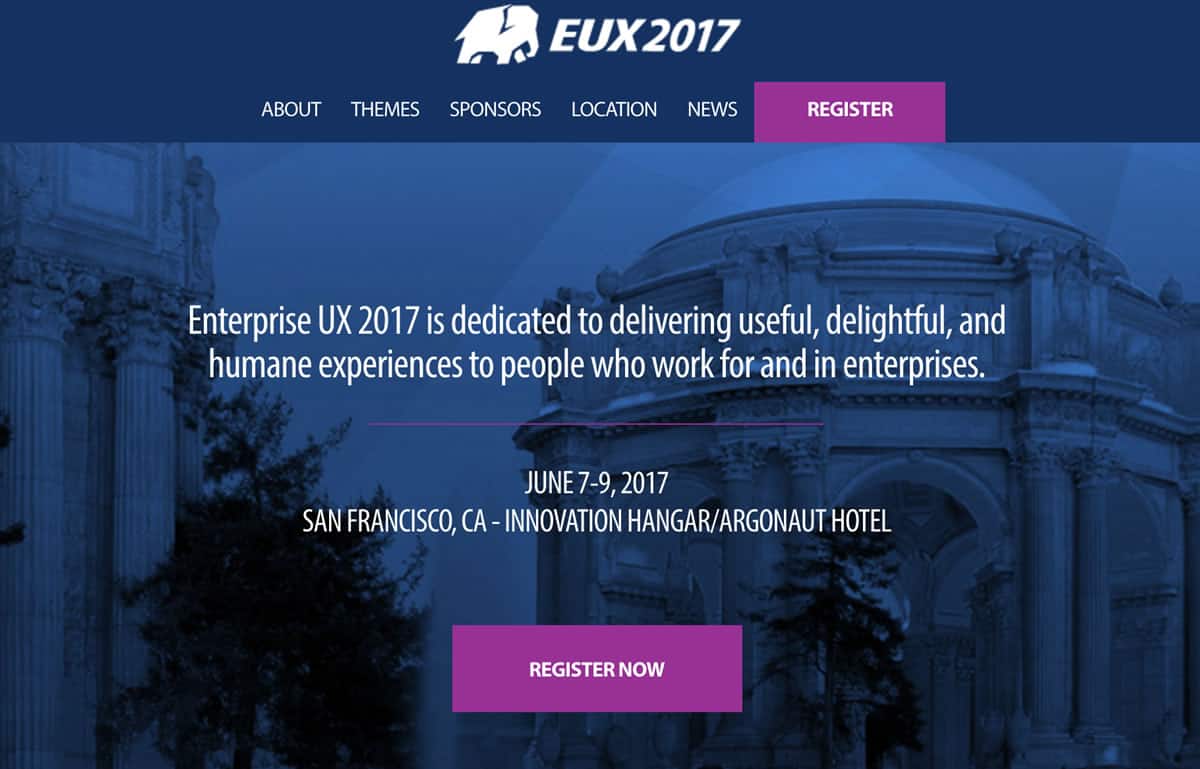 Image Source: https://2017.enterpriseux.net/
For those of you that work at an enterprise company, Enterprise UX, produced by Rosenfeld Media, is geared towards you. The conference is specifically designed for the unique user experience challenges that can be found within enterprise businesses. The conference will cover how UX is practiced in enterprises like Pacific Gas and Electric, Hewlett-Packard, and SAP and how UX is changing the way these businesses work. Themes covered include crafting enterprise experiences, transcending silos, and creating a legacy.
UX Week (Adaptive Path)
August 29-September 1, 2017
San Francisco, CA USA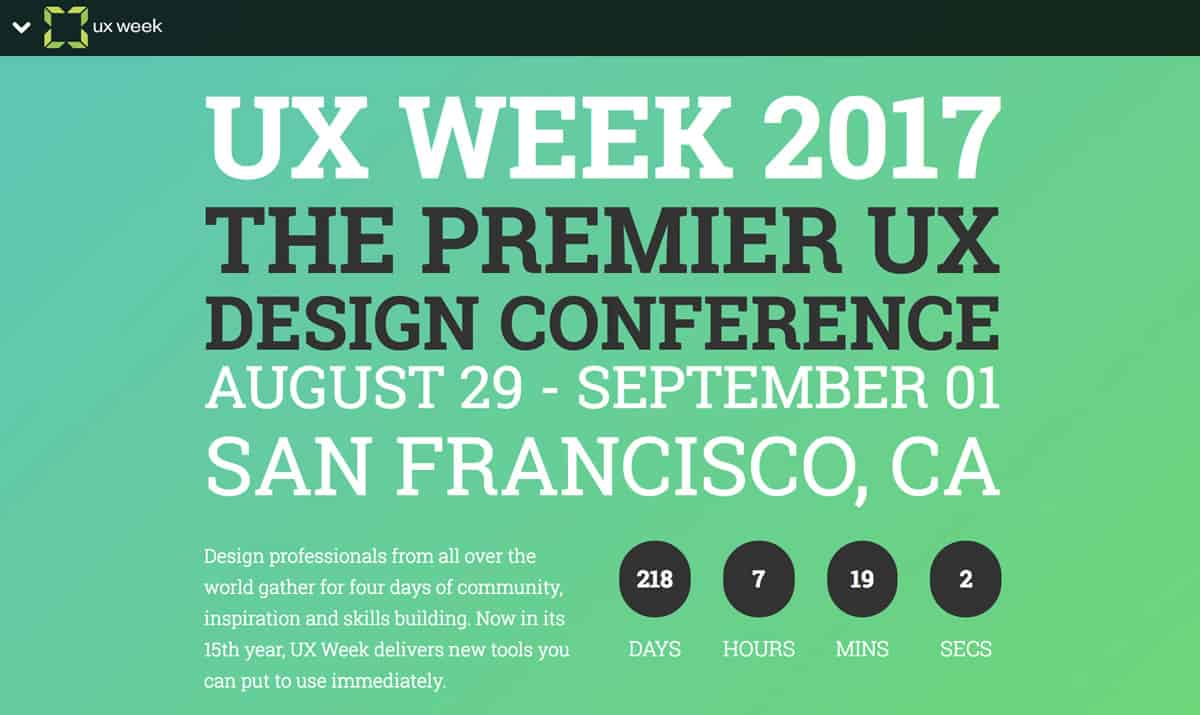 Image Source: http://uxweek.com/
Now in its 15th year, UX design professionals gather in San Francisco for this intensive and high-quality community building conference full of inspiring talks and hands-on skills training. It is highly regarded as one of the best UX conferences in the world.
2016 speakers included Jesse James Garrett, Irene Au and Alan Cooper. 
I hope you get an opportunity to attend one or more of these conference over the course of the next few months. If the list above doesn't work for your schedule, there are many more UX events and conferences popping up all over the world. We would love to hear about your favorites.
Proto.io lets anyone build mobile app prototypes that feel real. No coding or design skills required. Bring your ideas to life quickly! Sign up for a free 15-day trial of Proto.io today and get started on your next mobile app design.