Not only has technology changed the way we work, but it has also profoundly affected the physical places in which we work. One major trend in modern workplace design is to promote collaboration, creativity, and productivity through the use of modern agile workspace solutions.
Agile workspaces might be just what your company needs to inspire creativity, build a strong and happy work culture, and solve more problems. Gone are the times where offices and cubicles were the focus of office design. In their place are well thought out open floor plans with added benefits, including lots of access to natural light with the intention to increase opportunities for your team to connect, produce, and feel healthier and happier.
There are a few things to keep in mind when designing successful agile workspaces, including:
Learn from Your Users
All good designers know that taking the time to learn from users is an integral part of the design process. This holds true whether designing a mobile app or a physical workspace for a design agency or software company.
Image source: Unsplash
Conducting sound user research can make the difference between the construction of an "ok" work environment and the development of a cutting-edge and inspiring workspace that will be the envy of all your office neighbors!
Conduct interviews and focus groups to understand the wants and needs of your employees in regards to their workspaces and how they prefer working. Reflect on that feedback. If you do that successfully, it will be easier to create a delightful and functional space where people actually want to want work and in return are the most productive and creative.
When interviewing your users, keep in mind that people often say things but may actually do something else. As a result, please make sure to carve out some of your user research time for observing them in action in the right context, which in this case is their work environment.
For example, you might find that a user says she spends 70% of her day at her desk, but in actuality she walks around quite a bit and is often found meeting with colleagues on the couch brainstorming. What this shows is that she would most likely be open to taking advantage of a hybrid of opportunities to engage with colleagues outside of the traditional desk format.
Providing a wealth of opportunities to engage, from playing a game of ping pong or meeting at the cozy couch overlooking the mountains, has potential to spark inspiration and problem solving.
According to Joyce Bromberg, Vice President of Innovation and Design for Convene, "We need to allow people to work in the way they need to work, and not create rules that force them to work in some other way" and that "if you give people the opportunity, they will tell you how the workplace should be designed."
Try gathering feedback from the users through a hybrid of research tools, including taking pictures, observing them in their current work environment, and conducting interviews.
Create More Opportunities For Engagement and Chance Meetings
Be creative in how you build more opportunities for people to engage and interact with each other. We all know about water coolers and coffee stations as places where people congregate for quick chats, especially when these areas happen to be the only option for socialization. What if there were more opportunities for these types of encounters to occur?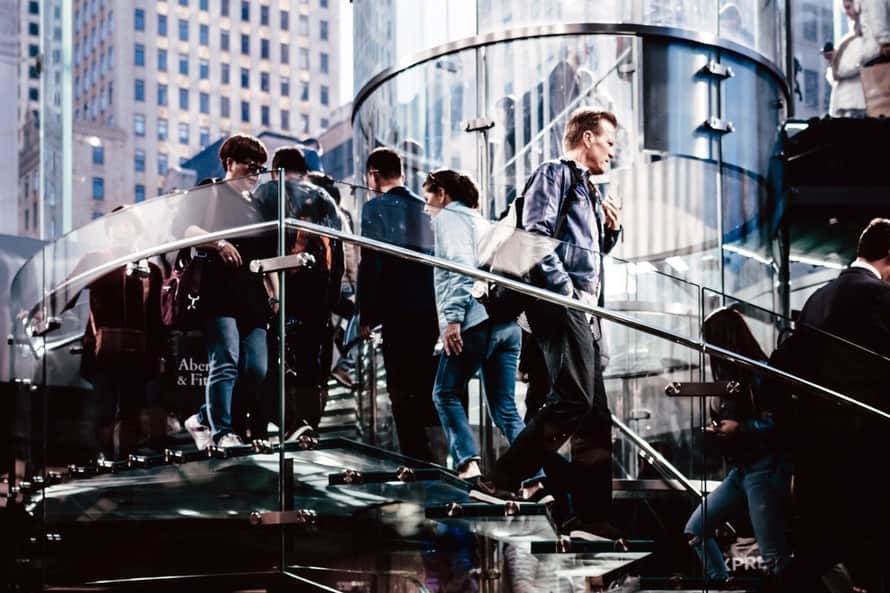 Source: Unsplash
There are a few ways to think strategically about forming more chances for people to interact and engage with each other when designing agile workspaces. Traditionally, staircases are accessed through a backdoor which diminishes the chances of these positive encounters significantly. Try installing a staircase in the middle of the office that leads to corners and nooks that people can sneak off to for a quick brainstorm or catch up. Having the staircase in the center of your office makes it a more social space simply by its strategic placement.
While there are occasions when scheduling meetings through tools like email or project management applications play an important role, there is something to be said about spontaneous chats and the important role they play in inspiring creative brainstorming and productivity.
Another way to allow spontaneous chats to turn into something more substantial is to design private areas scattered throughout the workplace that people can go to continue their conversations without having to book a conference room. I suggest placing these breakout areas thoughtfully near social spaces where people cross paths more often and may need a place to sneak off to for a few minutes. This allows them the perfect space to dig a little deeper into whatever conversation was started or to obtain a little privacy for more focused collaborative work.
Be Flexible
Allowing for flexibility in your design increases productivity as well as collaboration and creativity.
These flexible workspace environments should allow users to move things around easily in a way that works for them but also allows for a variety of personalities, including those who tend to lean towards introversion. Barbara T. Armstrong, a designer specializing in strategically integrating workplace design and culture and former principal at the global architecture and design firm, Kahler Slater, asserts that "as long as leaders pay attention to workers' diverse needs for collaboration and privacy, the future of workplace design looks bright."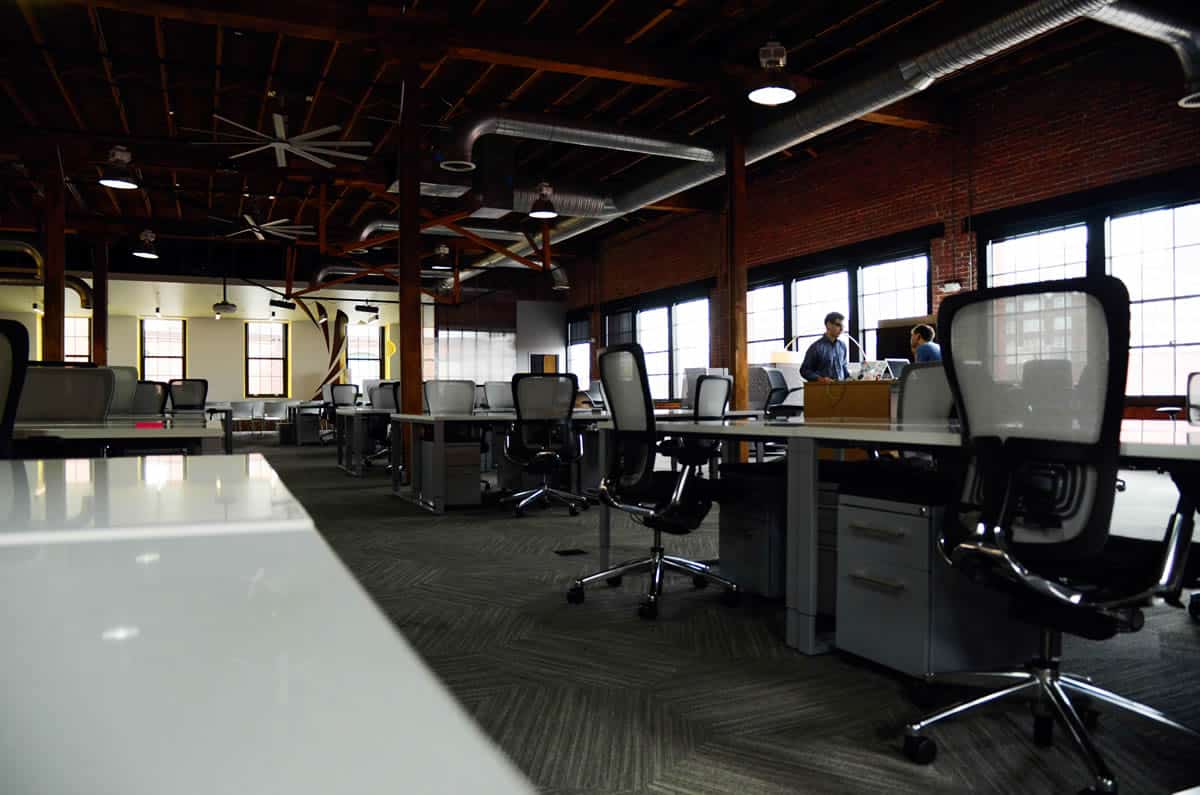 Source: Pexels
The needs of your users may change over time so think about investing in multi-purpose workstations consisting of modular furniture that can be moved, stacked, and assembled allowing for a large number of configurations, depending on the user or team doing a particular project. Think about purchasing desks, a variety of table sizes and shapes, benches, and storage units that do double duty for independent work as well as team dialogue. This means taking into consideration height-adjustable desks and chairs, mobility, and adjustability for screens and dividers for those times when a bit of separation might be needed for a particular team project. Being able to reconfigure office layouts depending on the project or task at hand is incredibly important for sustainability, creativity, and efficiency.
Again, diversifying options for meeting spaces is also key. Consider designating a few conference rooms as "reservation-only" and leave the rest open to anyone anytime as long as it is not in use. This flexibility allows for people with a range of needs and personalities to have options that work for them.
Don't Forget To Create Spaces For Quiet Time and Recharging
Agile workspaces are made to enhance opportunities for collaboration and creativity. Part of that means allowing people the chance to move to a quiet space when they need to step away to focus on a particular project or to join a conference call. These quiet spots can support people who need some time for contemplation, independent work, or to simply recharge.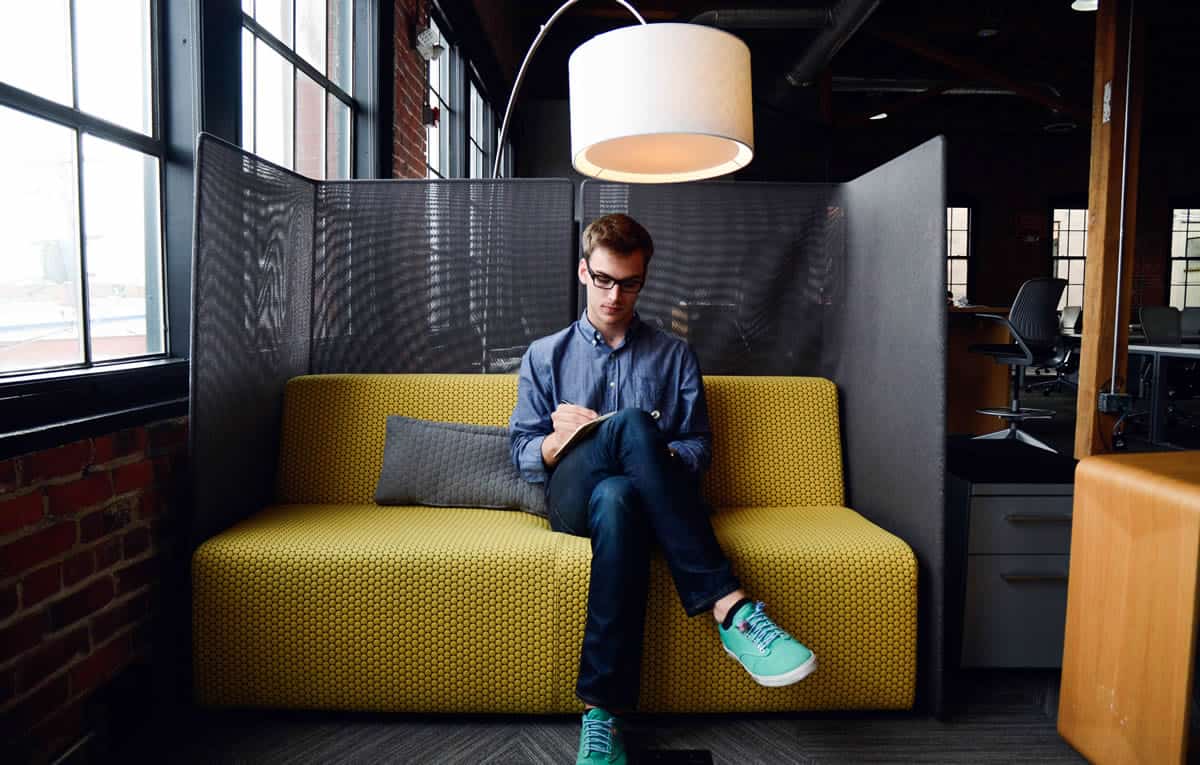 Image source: Pexels
Bestselling author of Quiet: The Power of Introverts in a World that Can't Stop Talking, Susan Cain, urges organizations to "create settings in which people are free to circulate in a shifting kaleidoscope of interactions," and then be able to disappear into private spaces when they want to focus or simply be alone. 
Spaces for quiet time can take the shape of a private conference room with a door or simply as a few booths placed around the office set apart from the louder social open areas. Be creative and see what works best for your particular environment.
What About All That Noise?
Designing successful agile workspaces is not a one-size-fits-all type of situation. There are aspects of this type of design that could have a negative impact on your work environment.
One of the biggest complaints about open floor plans is the audio and visual noise and lack of sound privacy. In fact, according to a 2014 study by Steelcase and Ipsos, workers lost as much as 86 minutes per day due to noise distractions. One way to try to solve the loud noise problem is to provide background noise to mask it.
It may sound counterintuitive, but according to this Harvard Business Review article "research suggests that noise itself isn't distracting, but unwanted speech noise is. However, words that are incomprehensible are less likely to be distracting. By adding a continuous, low-level ambient sound to an environment (such as white noise, which sounds similar to the sound of airflow), sound masking can help make conversations for listeners that aren't intended to hear them unintelligible, and therefore much easier to ignore."
Though a bit more expensive, you might consider including soundproofing materials to drop ceilings and walls to block and absorb sound.
Need a little inspiration? Check out these examples of awesome agile workspaces!
Proto.io lets anyone build mobile app prototypes that feel real. No coding or design skills required. Bring your ideas to life quickly! Sign up for a free 15-day trial of Proto.io today and get started on your next mobile app design.