Every designer needs inspiration from time to time. There's no better way to get inspired than quotes from the world's greatest designers! Here are 45 of the most inspiring quotes about design.
A Little Encouragement
1. "Failure is an option here. If things are not failing, you are not innovating enough." – Elon Musk
, Inventor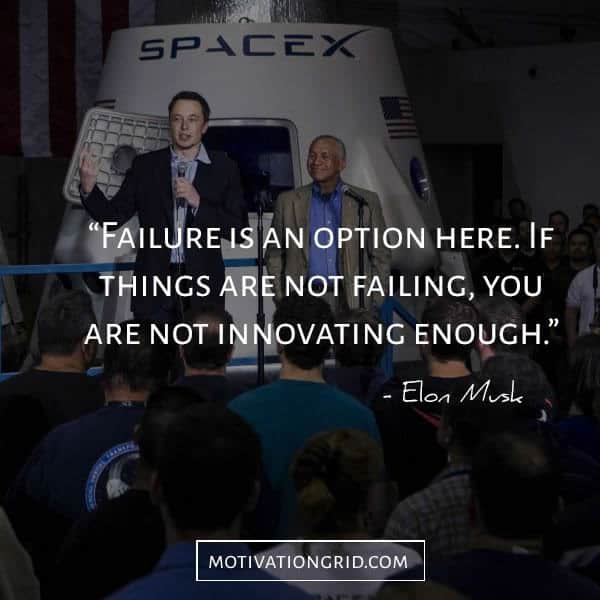 Source: Motivationgrid.com
2. "It was women I spoke to, sat amongst the giant whirring computers. It never occurred to me that this wasn't a job for someone like me. For young people to see that is I think important, and as important for young men as well as young women."  — Rachel Andrew, Web Developer
3. "Don't underestimate the ripple effect of what you do." –
Leila Janah
, Cofounder of Samahope
4. "It's your inner truth. If you're doing your best work and you think it's work that helps other people, who can tear you down?" –
Brit Morin
, Founder & CEO of Brit + Co.
5. "The broadness of my interests gives me an excellent perspective to do what I do, and I wouldn't have it any other way." –
Adam Savage
,
Mythbusters
6. "We're experimenting with new methods and techniques, we're seeing lots of crazy ideas (plants that Tweet! social networking around virtual farms!), and we're seeing culture being shaped by the very things we're designing."
Daniel Brown
, Cofounder of Eight Shapes
7. "I have not failed. I've just found 10,000 ways that won't work." –
Thomas Edison
, Inventor
8. "The more I study, the more insatiable do I feel my genius for it to be." –
Ada Lovelace
, World's First Computer Programmer
9. "It's really just a matter of time and resources; if you have those then anything is possible." –
Hironobu Sakaguchi
, Cofounder of Squaresoft
10. "When you do something that's guaranteed to succeed, you're closing the door to the possibility of discovery." –
Milton Glaser
, Logo Designer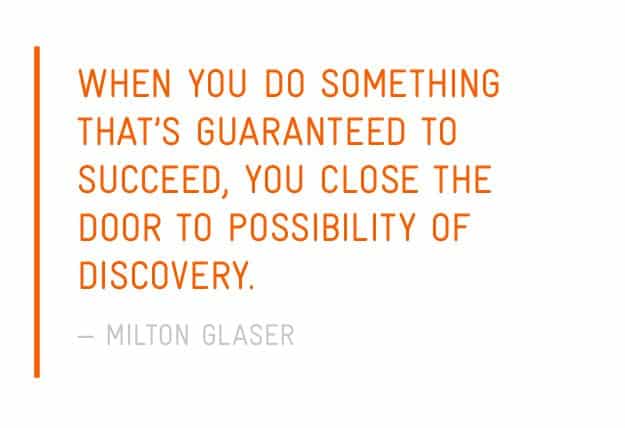 Source: Relatably.com
Problem Solving is the Key
11. "A good idea is something that does not solve just one single problem, but rather can solve multiple problems at once." –
Shigeru Miyamoto
, Nintendo
12. "I'm not a programmer at all so what I did was find some interesting programmers and collaborated with them. So you start a really good relationship between a more technical person who's good at solving the problems in code, and someone like me who comes up with the ideas, rather than trying to do everything yourself. There's only so much room in your head." –
Matt Pyke
, Founder of Universal Everything
13. "Design is all about finding solutions within constraints. If there were no constraints, it's not design – it's art." –
Matias Duarte
, Vice President of Design at Google
14. "It's a two way process – we apply our architectural research and experimentation to these designs – but we also learn a great deal from the process of collaborating with others who lead their own industries. A brilliant design will always benefit from the input of others." –
Zaha Hadid
, Architect
15. "Creativity comes from a conflict of ideas." –
Donatella Versace
, Fashion Designer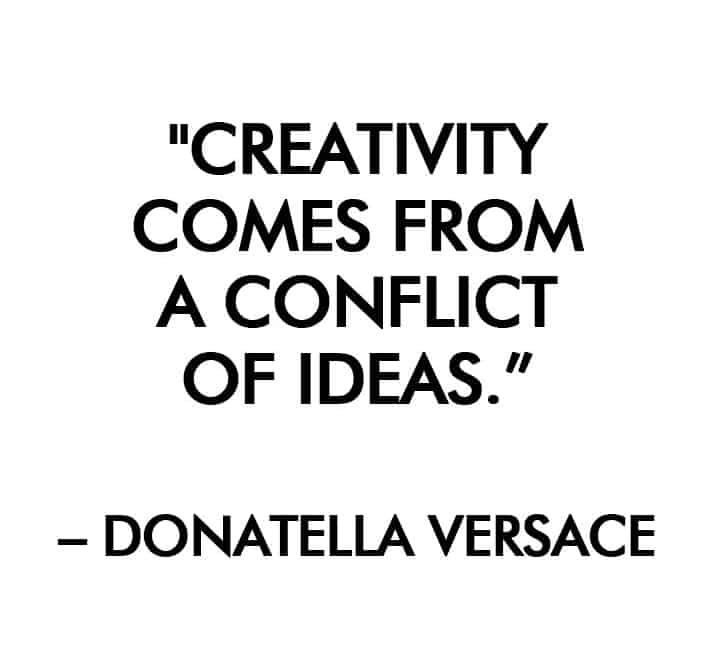 Source: Pinterest.com / Mohendri
16. "Our power has always been in our web community – we are exceptionally good at creating movements and solving things, as a community. It's time to dig deep and put as much time and effort into helping our community as we once did fixing browser quirks all those years ago." –
Sarah Parmenter
, Web Designer
Purposeful Passion
17. "I think we all have a vision for something. If you believe in something deep in your gut and in your heart, it's probably going to be inspiring to other people." –
Tiffany Jones Brown
, Creative Director at Pinterest
18. "Nothing stays still; nothing has ever been given to anybody. The amount of tenacity, energy and patience it takes, especially today, is immeasurable. Skills and passion are a must, and of course you would have those because it's such a hard journey that you wouldn't try and do this without them. Just keep moving forward, that's how I've got here, one foot in front of the other." –
Simon Waterfall
, Creative Director of Social Suicide
19. "Freedom is the only style. That is why I never speak about beauty or beautiful products but 'good products'. Nowadays, we have so many challenges; it is not really a priority to care for beauty. The only way for us is to focus on an ethic and ecological behaviour." –
Philippe Starck
, Interior, Industrial, and Architectural Designer
20. "If you treat the things that you want to do in life, your actual desires, as your truth, people can't argue with it." –
Jessica Hische
, Founder and CEO of Something, Eventually
21. "Your work is going to fill a large part of your life, and the only way to be truly satisfied is to do what you believe is great work. And the only way to do great work is to love what you do. If you haven't found it yet, keep looking. Don't settle. As with all matters of the heart, you'll know when you find it." –
Steve Jobs
, Apple Founder
22. "I truly put passion and soul into the design to make it feel like a living thing." –
Ikuo Maeda
, Design Chief at Mazda
23. "At its best, design is human. It's not about does it have drop shadows, is it pretty? It's more about the connection I have with it." –
Jenny Arden
, User Experience Manager at Airbnb
24. "It is unforgivable to do what one doesn't love, especially if one succeeds." –
Christian Dior
, Fashion Designer
Finding Meaning
25. "Design shouldn't be superficial – it's an essential form of expression." –
Joyce Wang
, Luxury Interior Designer
26. "Art exists only to communicate a spiritual message." –
Alfonse Mucha
, Artist and Designer
27. "A design career is a process of learning better and better what you know instinctively." –
Mario Bellini
, Architect and Designer
28. "Every great architect is — necessarily — a great poet. He must be a great original interpreter of his time, his day, his age." –
Frank Lloyd Wright
, Architect
29. "Does innovation really help break the taboo? The answer is 'Yes.'" –
Miki Agrawai
. Product Designer
30. "It's like being in a trance – it's a fluid – and you almost don't remember doing the picture. Drawing is an escape from all the unnecessary things in life that get in the way of being free." –
Jamie Hewlett
, Graphic Artist
31. "How do you know if you're doing a good job? There's always an external way to measure quality—being prepared, attending to the details, listening to the collective wisdom about what it means to do good work. Give a crap about the little things, and you're good." –
Karen McGrange
, User Experience Designer
32. "Design is, in abstract terms, a sum of individual signals, which combine to produce a powerful overall signal. Good design is by no means the result of purely rational thoughts. And that's what makes our mission so difficult. After all, design is always the reflection of attitudes towards life, views and convictions." –
Walter De Silva
, Automobile Designer
Good Advice
33. "The best thing you can do is stay in your studio and do it as well as you can." –
Jasper Morrison
, Product and Furniture Designer
34. "To be successful, you really have to put your ego in the background and try to be diplomatic to achieve what you want to achieve." –
Ken Adam
, Production Designer
35. "If you're interested in design, the best thing to do is observe how people interact with each other and the things they use." –
Julie Zhuo
, Director of Product Design, Facebook
36. "I try and be as stupid as possible regarding my profession, which means I try to look at as few design magazines as possible." –
Ettore Sattsass
, Founder of the Memphis Collective
37. "Go one way, or another." –
Adrian Fisher
, Maze Designer
38. "In order to be irreplaceable, one must always be different." –
Coco Chanel
, Fashion Designer
39. "The dirty little secret about simplicity is that it's really hard to do." –
J Mays
, Automobile Designer at Ford Motor Company
40. "Make it work." –
Tim Gunn
,
Project Runway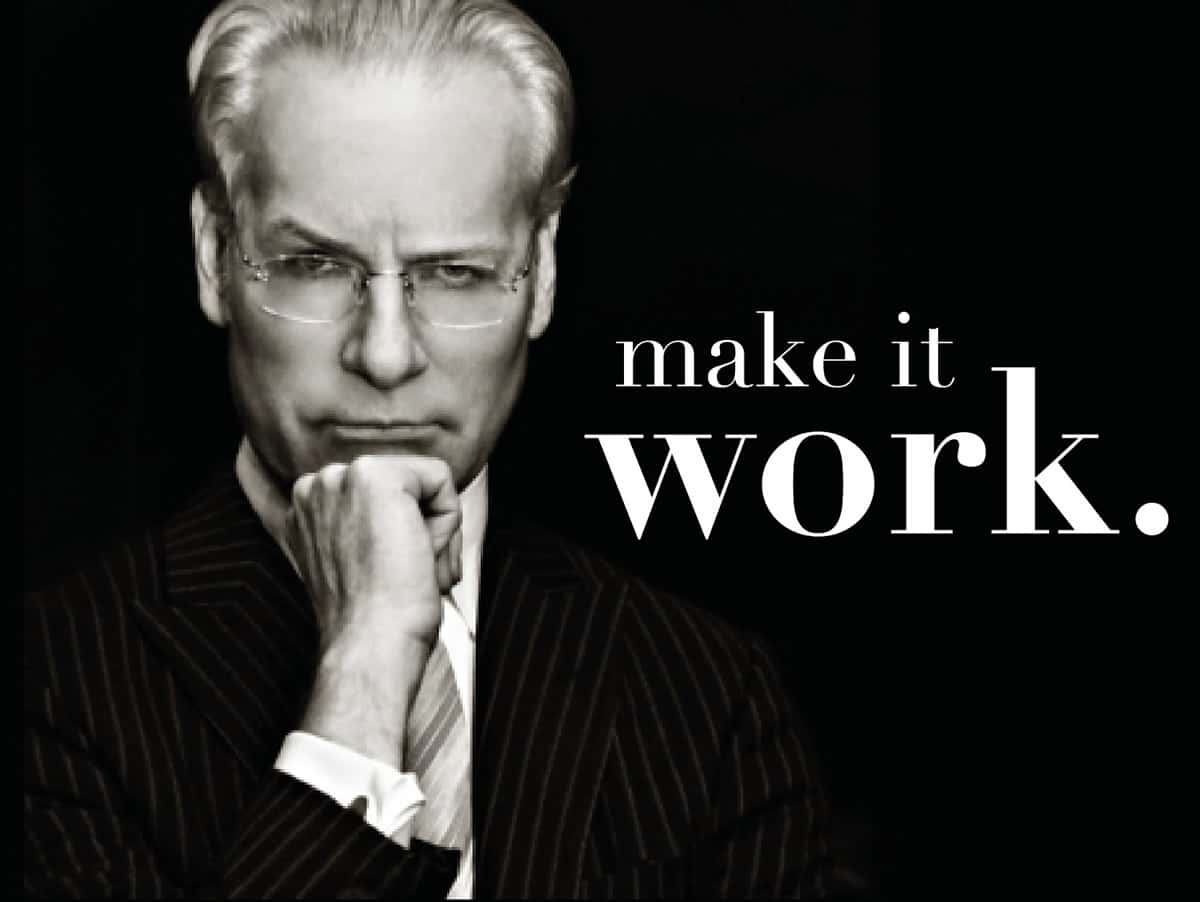 Source: 913 to 619
41. "It's often things you have seen around you that make you appreciate the beauty of it. There is so much to be seen and I think we sometimes have forgotten how to look." –
Veerle Pieters
, Web and Graphic Designer
42. "It's not all about what it looks like; it's more about what it feels like." –
Linda Andersson,
Ford Punk Designer
43. "Whenever I need an extra hit of inspiration, I browse books from James Turrell, Tadao Ando, or Santiago Calatrava while enjoying a glass of scotch. I also go to museums and parks on a regular basis with my family." –
Hector Ouilhet Olmos
, Product Designer at Google
44. "Have a point of view, be creative, continue to produce new work and develop your skills." –
Fleet Bigwood
, Textile Designer
Proto.io lets anyone build mobile app prototypes that feel real. No coding or design skills required. Bring your ideas to life quickly! Sign up for a free 15-day trial of Proto.io today and get started on your next mobile app design.