I remember the first time I ever tried coffee as a kid, it was brewed in a sock. No, not the kind you wear on your feet but a coffee sock. This is a simple cotton or muslin filter that is popular in Central and South America as well as some parts of Southeast Asia. Then, I also remember the first time that I walked into a Starbucks and discovered this huge monster called the espresso machine.
These days, coffee for me is always made in a classic moka pot, as I was informally adopted by Italian moms while attending grad school abroad in my early 20s. Simple, traditional designs can bring out the best of quality coffee. But coffee itself has evolved from a beverage product to a whole culture that demands special attention to the paraphernalia that comes with it, such as coffee makers.
Here are 10 uniquely beautiful coffee makers that truly reflect the importance of coffee culture in our world today.
I have heard plenty about the benefits of cold-brewed coffee and seeing just how sexy the Bod coffee maker is, I might just get over the 12–24 hours brewing cycle and give it a try. The company behind the Bod, BodyBrew, was previously known for their signature Hourglass Coffee Maker, which is essentially a curvier-looking version of the Bod.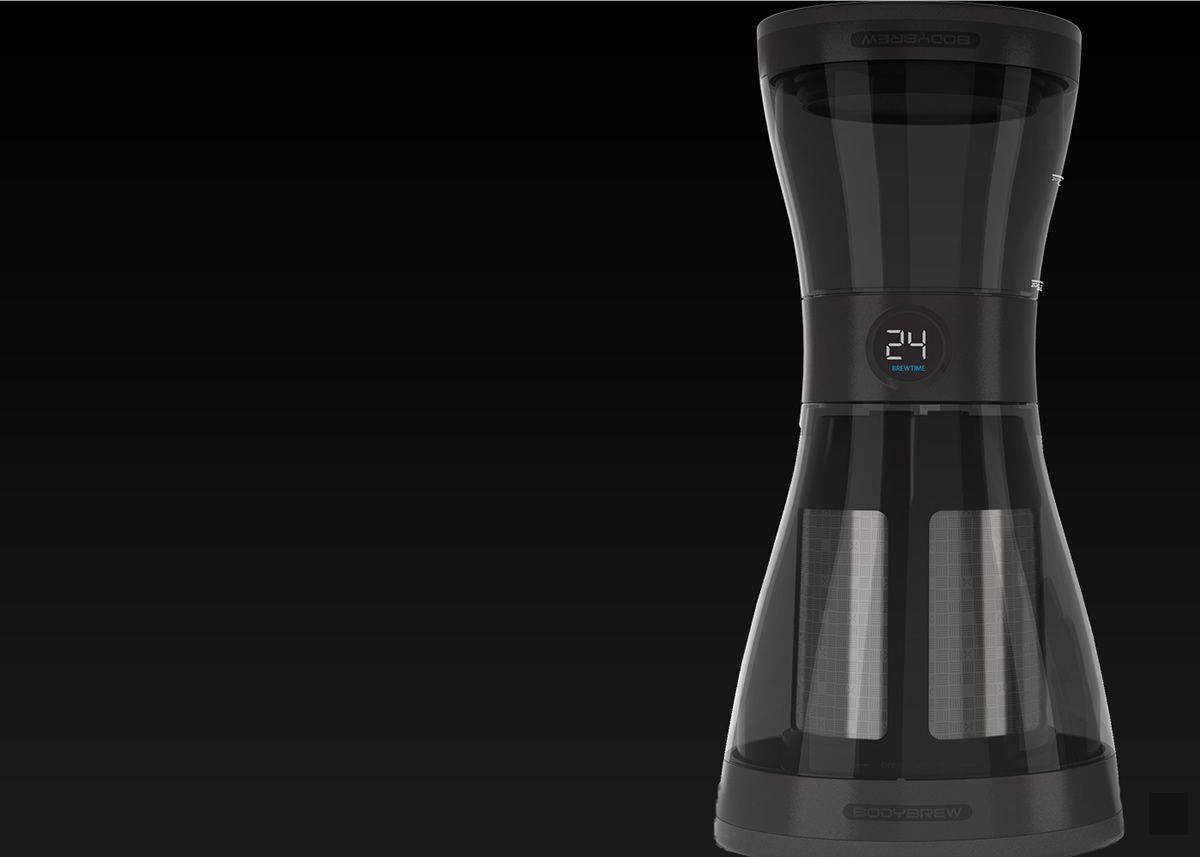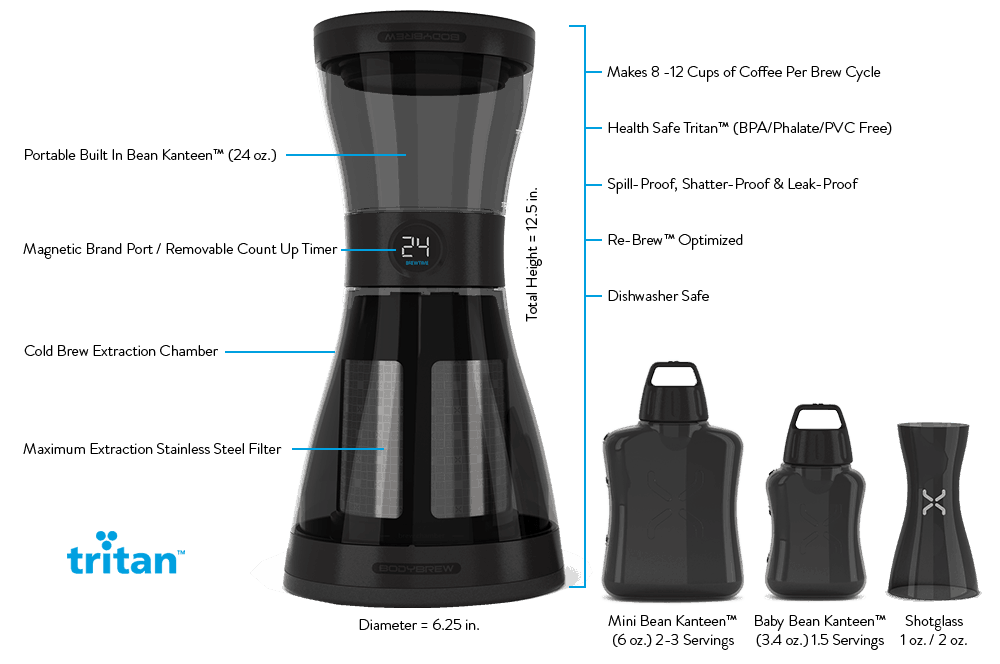 The Bod has been designed to be the cold brew coffee maker, with its easy to use integrated brewing system, portable size, and durability. If you're into cold brew, prefer your coffee non-acidic and healthy, and if you have a heck load of patience for that perfect cuppa in the morning, be sure to pre-order your Bod. It has been successfully funded on IndieGoGo so yay for all cold-brew fans.
Let's just forget everything we've ever known about coffee makers for a while and imagine, what if freshly-brewed piping hot glorious coffee simply flowed from a tap?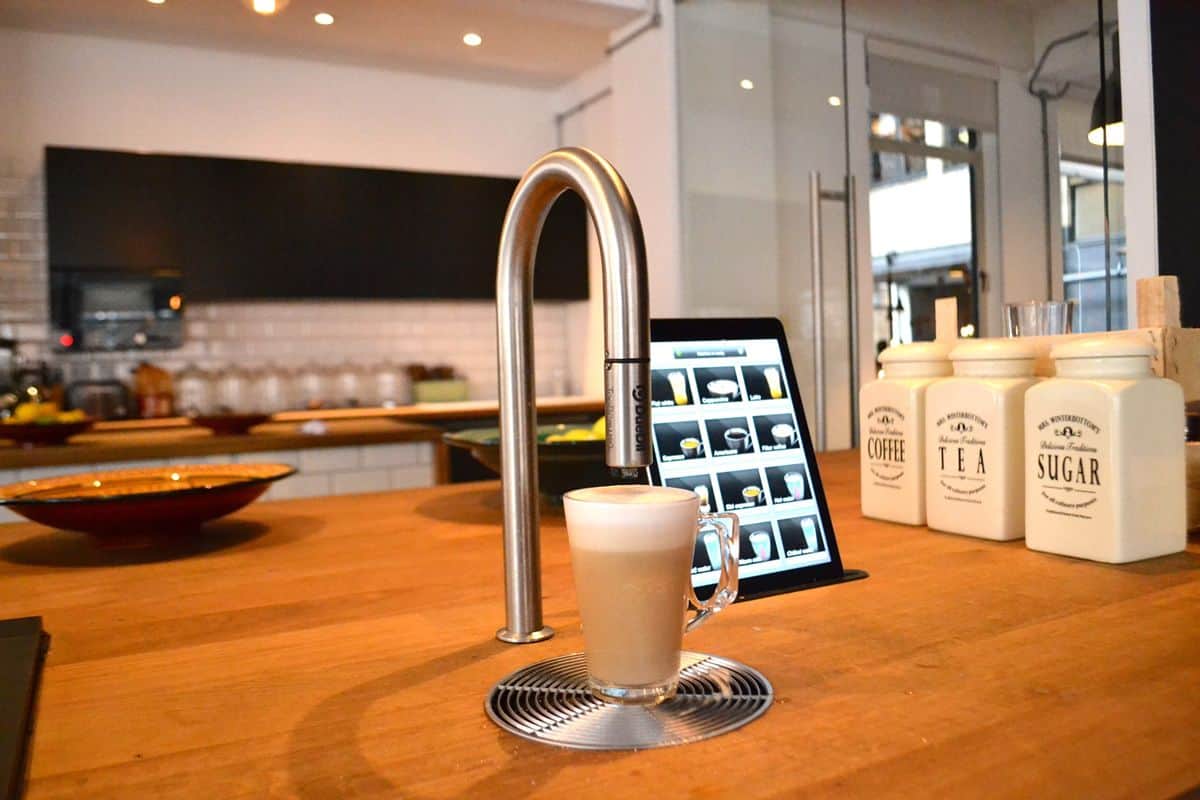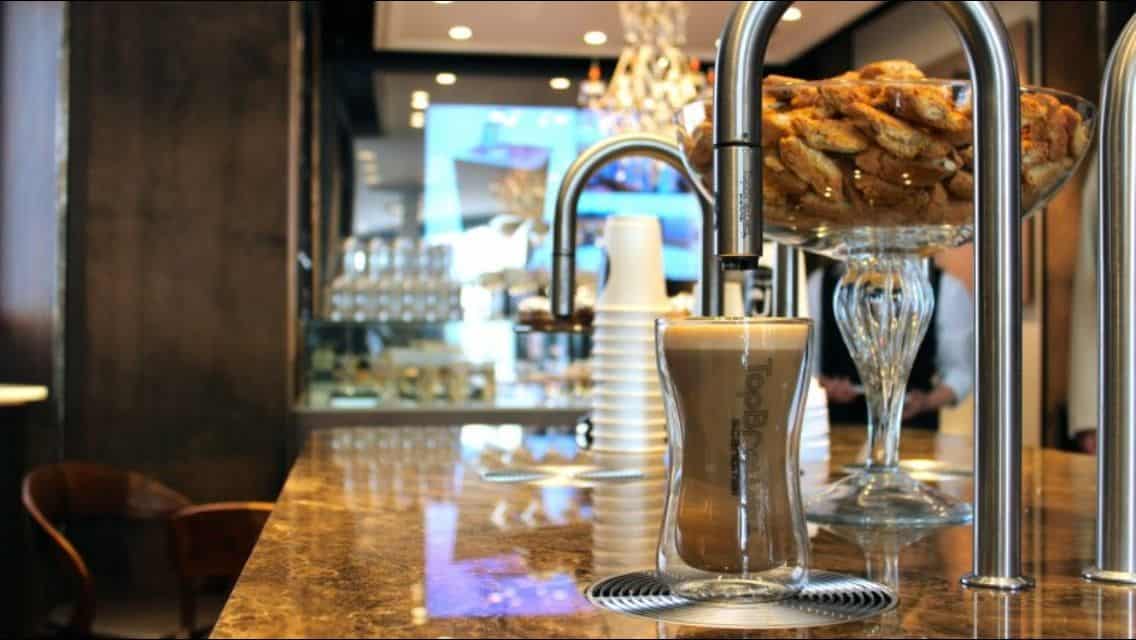 Now we have it. With a tap and an app, available for iOS and Android. The TopBrewer has been designed in such a way that all the unsightly machinery and industrial parts are well hidden. And I mean really well hidden like in your kitchen tabletop. What's visible is a sleek, minimalist tap through which the coffee that you've asked for via the app is delivered straight into a cup. What's more, it's self-cleaning.
I've always dreamt of the day when my iPhone could make me coffee every morning. Now it looks like a possibility after all. Though I must say, in terms of affordances, if the iPad wasn't placed right next to that tap to indicate what it actually does, I would've probably waved my hands under it thinking it's one of those motion sensor taps.
3. Dream by Ascaso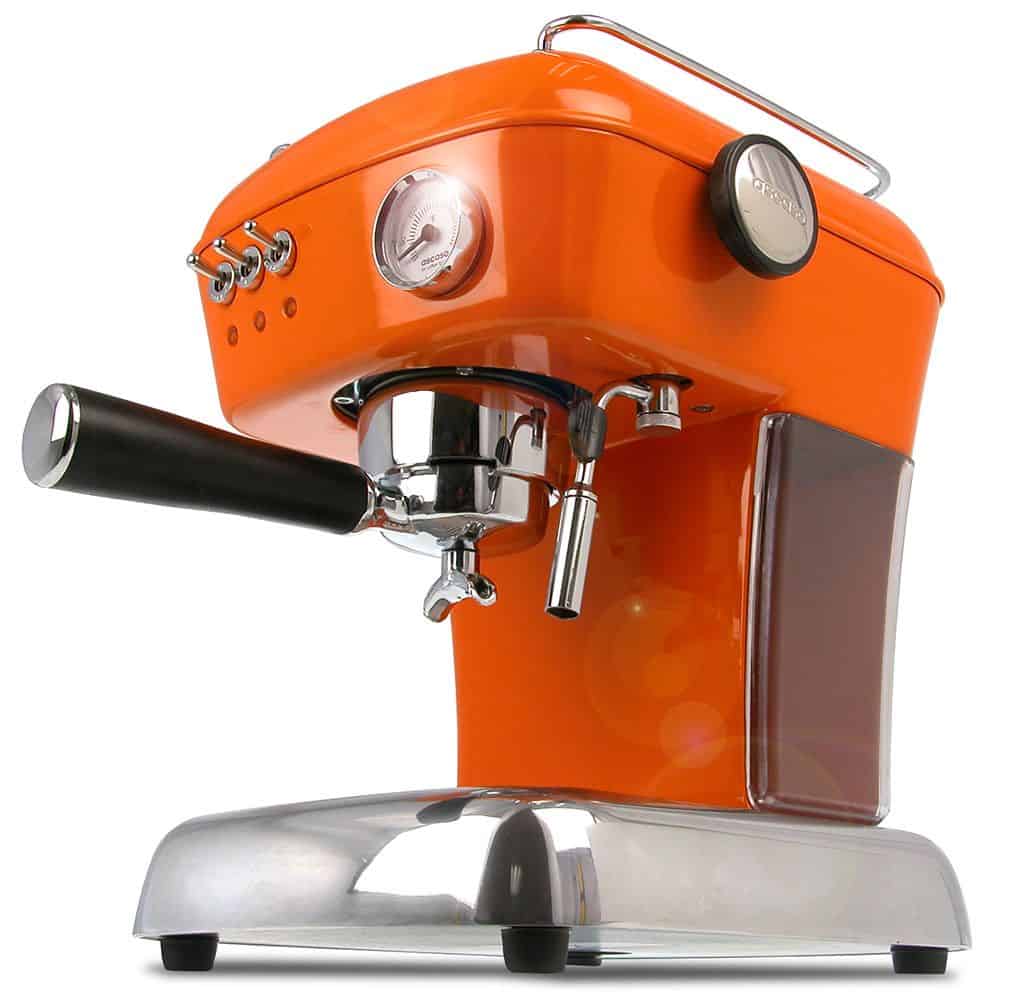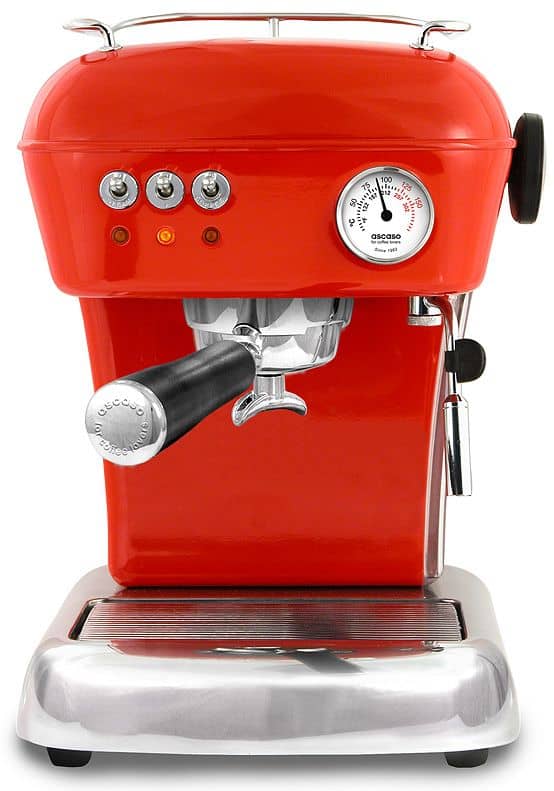 Hello, coffee maker from that Wes Anderson movie! Although not a San Franciscan native, I'm a big fan of the eclectic blend of vintage and high tech, as is every other self-denying SF-dwelling hipster. Ascaso's delightful retro-meets-tech Dream coffee makers comes in a range of colors. From solid black to vivid intense orange to fresh pistachio green. Besides its attractive form that adds a playful touch to your kitchen, the Dream also offers you barista-quality coffee right in your home.
British designer Joshua Renouf has apparently resolved the greatest conundrum faced by every coffee lover. A freshly-brewed steaming cuppa in the morning is one of the best incentives to waking up but who wants to actually go make the coffee? This coming-soon coffee-maker / alarm clock is your perfect solution.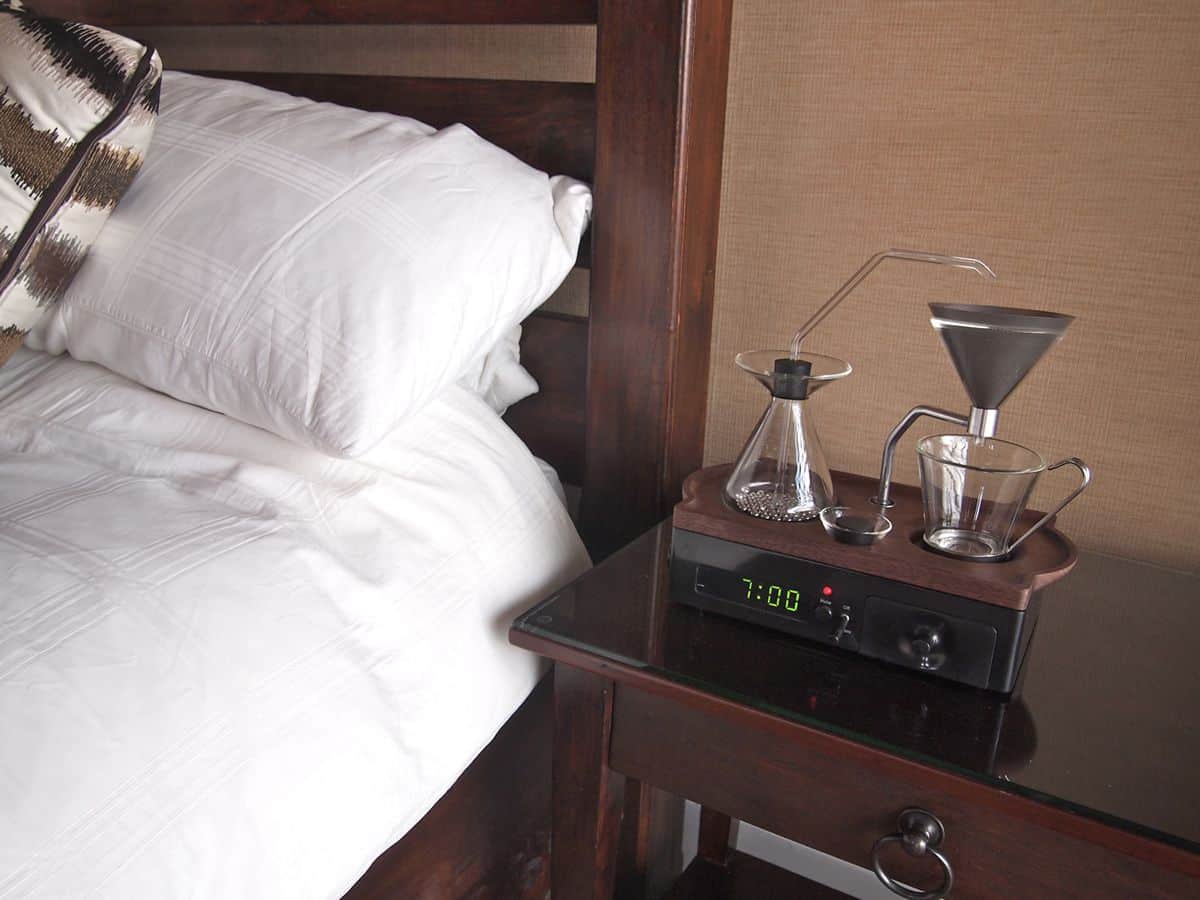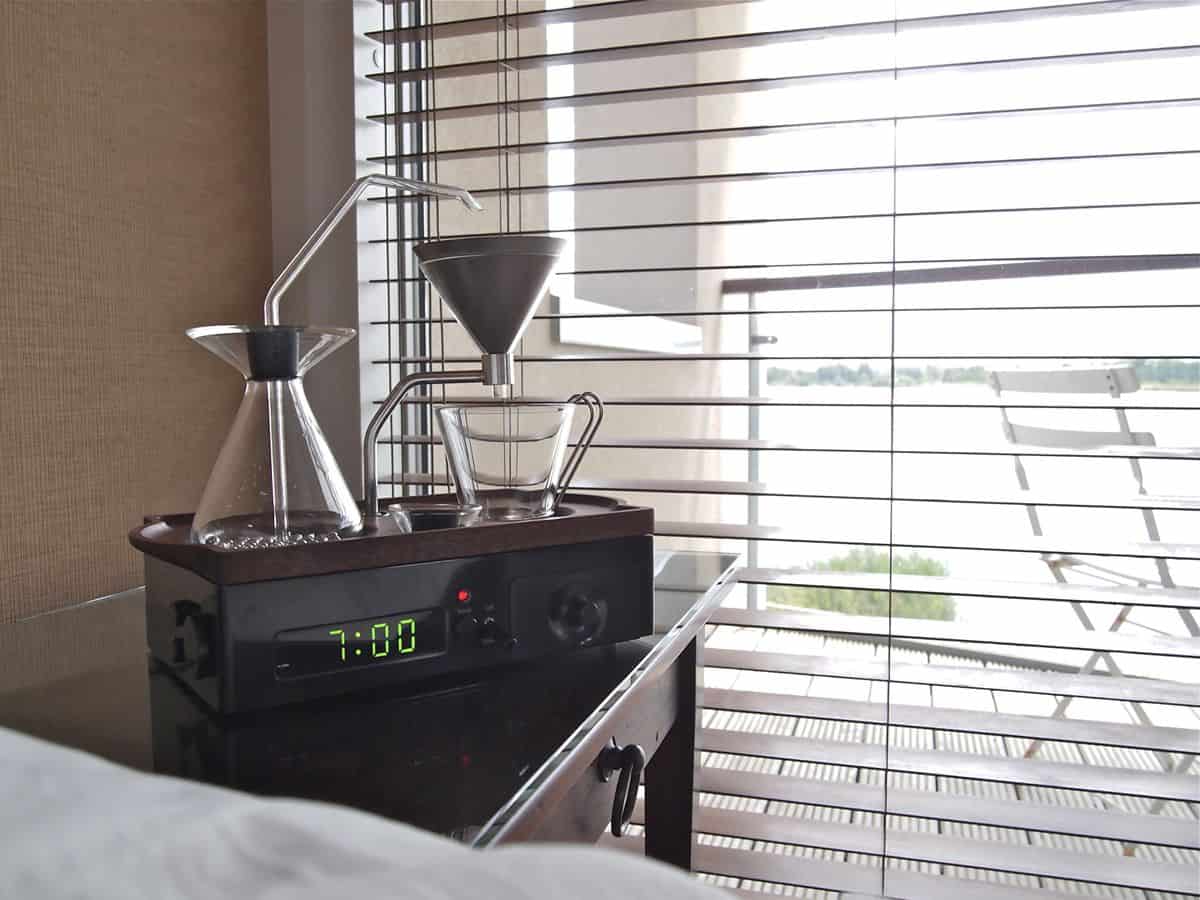 The Barisieur combines elegance with science with its wooden-top digital alarm clock that sets the coffee maker off at a designated time every morning. As water is boiled via induction heating, the vibrations of the steel ball bearings gently wake you up. By the time you're somewhat vertical, the aroma of fresh coffee would've hit your olfactory system, alerting to you a brand new day. This would require a preparation ritual of placing the beans, milk, and sugar before you hit the sack. But as the designer Josh Renouf puts it, the ritual is a way of signalling to your body and mind that it's time to rest and unwind.
I'm not a big fan of the Dolce Gusto selection of capsule coffee. But if I had to have it, I'd like for my coffee to be made with DeLonghi's Circolo range of coffee makers. One big plus of the Circolo, as reviewed by users, is that it's really easy to use despite its Sci-Fi looking, futuristic design. Rather than a coffee maker, it looks more like a sleek component of some fancy Lamborghini car. The Circolo is definitely for the lazier folks who still want decent quality coffee but without the hassle of brewing and cleaning.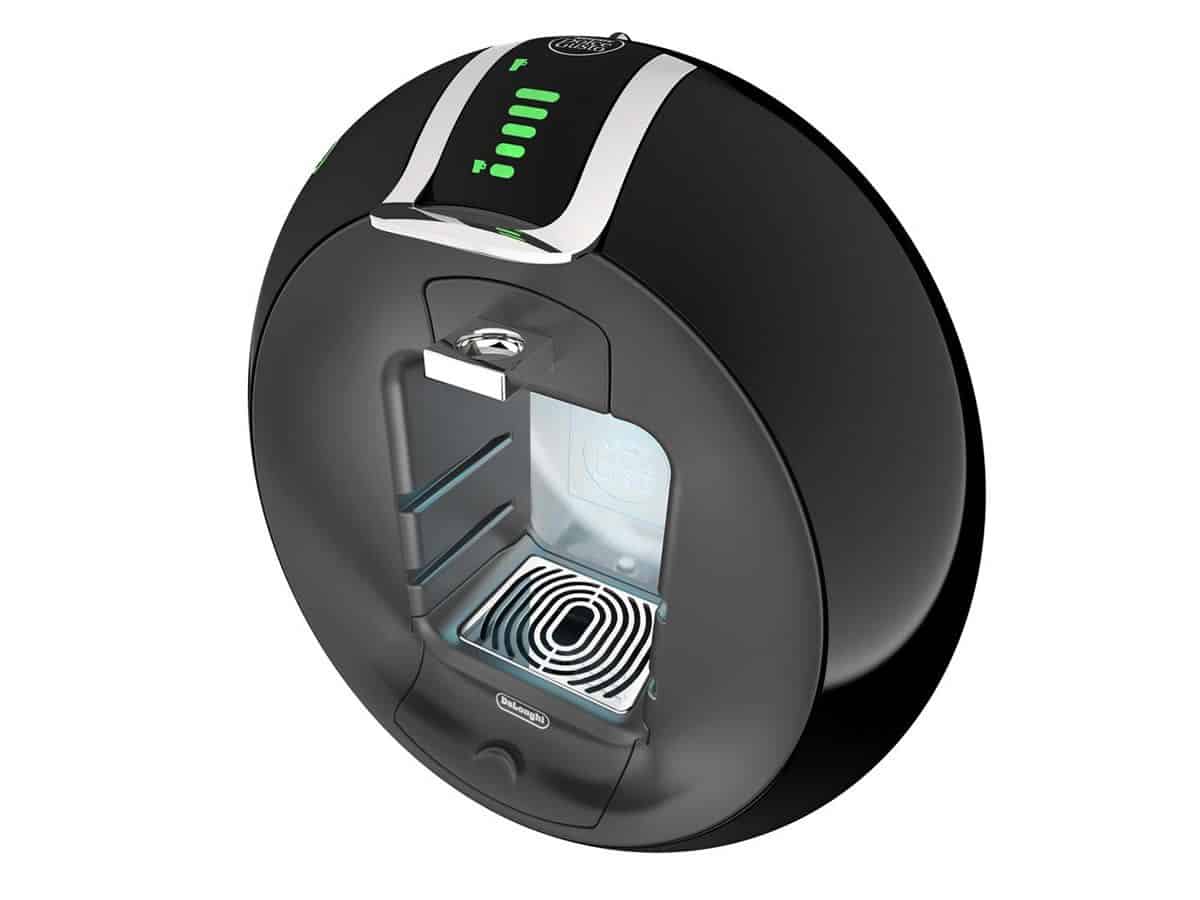 6. Pebo by Bodum
I'm not sure what kind of sorcery Bodum tapped into to come up with filterless coffee makers. But the Pebo is one classy piece that would add a hint of barista sophistication to your kitchen. Its apparently effective and fascinating vacuum brewing method is meant to extract the right flavors and oils from the coffee grounds. It's also sealed tight to prevent any aroma from escaping. The whole setup does resemble a science experiment though the copious curves give it a more refined and exquisite look.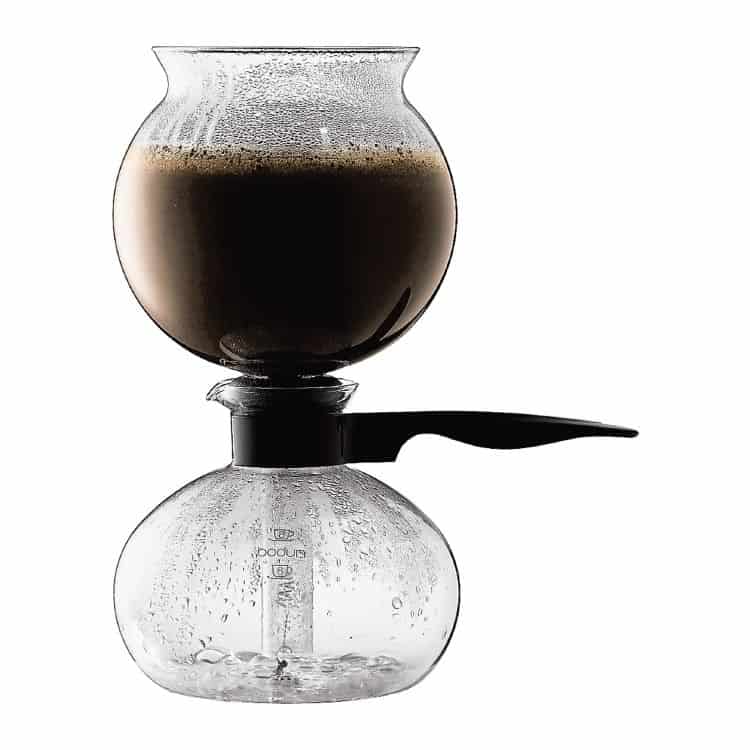 I did warn about my penchant for retro-meets-tech. Here's another coffee maker that Wes Anderson might approve of. Even the brand name is quirky as it is. The X1 by FrancisFrancis!, the coffee maker manufacturer of Illy (the producer of some magnificent espresso, by the way) is a traditional espresso machine that gives you full barista control right in your kitchen.
The fiery red X1 looks like it could go hand in hand with a classic 1950s red Cadillac. Or right in the middle of the bow of a yacht. The original design is by award-winning Italian architect Luca Trazzi, who has evidently taken an everyday modern appliance beyond the realm of mere functionalism and embedded beauty into quality technology.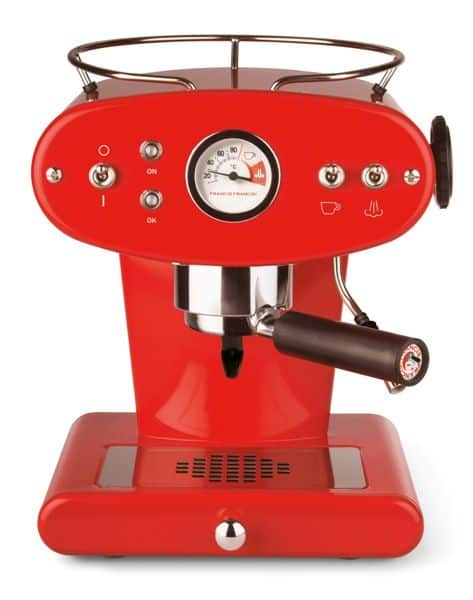 The Mono Cafino is like a French press that uses a removable filter instead of a plunger. It has a striking design that makes it several times more charming than a regular press. Inspired by the idea of rediscovering the origins of coffee, the Mono Cafino coffee makers brew coffee without the use of filter bags that dilute the gustatory delights and aesthetic pleasures of brewing and drinking coffee.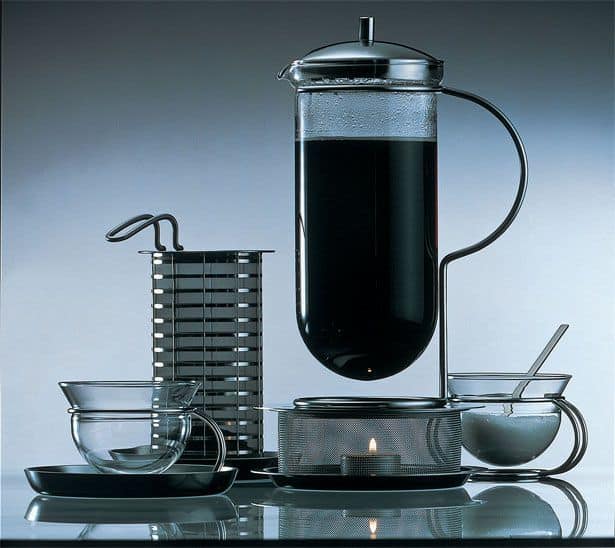 9. Brunopasso PD-1 by deviceSTYLE
Currently available only in Japan, the Brunopasso PD-1 was designed by Tadahito Ishibashi who probably has a thing for pace-setting, epic Italian sports cars. The Brunopasso coffee makers truly resemble a Ferrari. All the way down to the dashboard panels that light up and the more-than-obvious gear stick. It's also apparently easy to use and works with espresso capsules for a fast and furious solution to your caffeine withdrawal syndrome.
Sleek, majestic and aerodynamic, the Brunopasso PD-1 potentially confuses users who might just want to drive off with it at the spur of the moment. It's rare to find products designed to successfully emulate the look and feel of another entirely unrelated product, but this coffee maker truly does it well.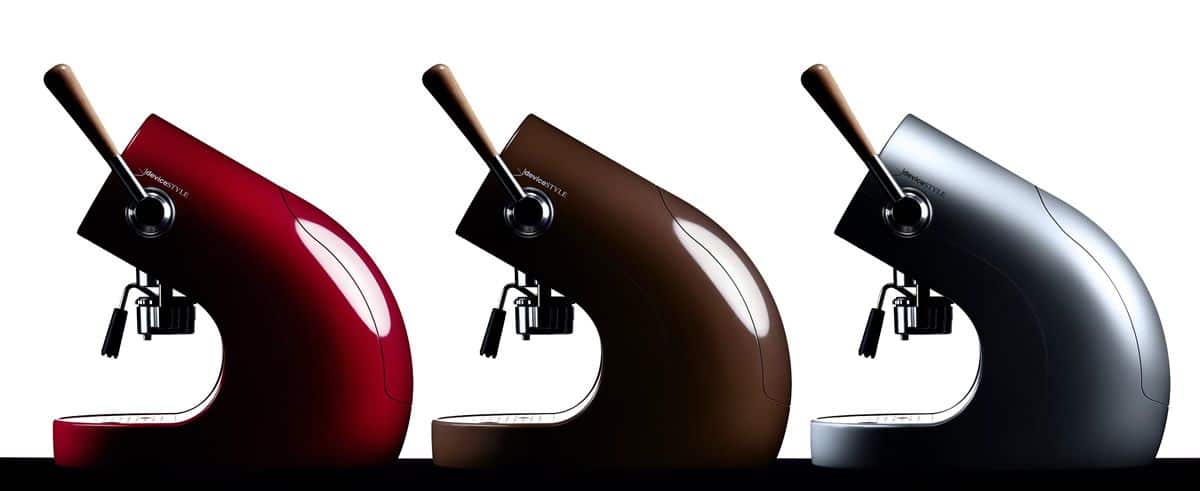 Image from Coches A La Venta
As mentioned earlier, 'coffee makers' to me is either the traditional mom-inspired coffee sock or the classic Italian percolator a.k.a the moka pot. Blue Bottle, in collaboration with industrial designer Joey Roth, has taken this 80-year-old iconic Italian coffee maker and reinvented it to incorporate a gorgeous ceramic top and a convenient cork handle that doesn't put you in the risk of burning your hands when you lift the pot off the fire.
I've yet to taste the coffee made from this modern-day moka pot but I can sure say that it's great to see classics being refurbished to the liking of our modern aesthetics while preserving a tradition that has proven itself to serve our daily caffeine needs for this long.